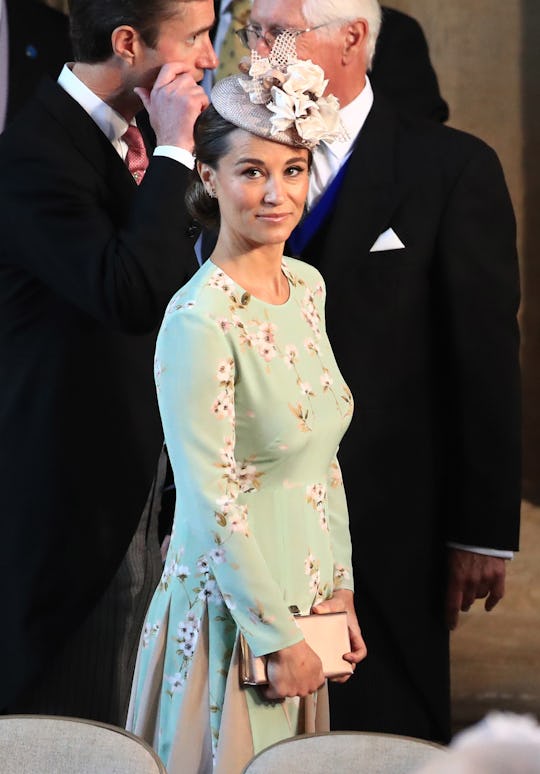 WPA Pool/Getty Images Entertainment/Getty Images
Pippa Middleton Will Be Welcoming Her First Child Soon Enough, But How Many Kids Does She Want?
With Pippa Middleton expected to give birth to her first child sometime in October, fans will finally have their wish to see she and England's future queen — the Duchess of Cambridge, Kate Middleton — raising their kids together soon. But now that the younger Middleton's progeny will get to play alongside his or her royally adorable cousins, you might have found yourself wondering just how many kids Pippa Middleton actually wants one day. There's lots of speculation out there about the charming noble-by-association and her growing family.
News of Pippa's pregnancy leaked just before her sister Kate gave birth to baby Prince Louis back in April, but Pippa officially confirmed the exciting news in a fitness column she pens for British grocery chain Waitrose, according to ELLE. In the column, she wrote, "When I learned the happy news that I was pregnant I realised I needed to adjust my normal 4 to 5-day-a-week routine and find a way of continuing my exercise safely throughout the three trimesters."
The future Queen of England's little sis married 42-year-old financier James Matthews last year at picturesque St. Mark's Church in Englefield, England, according to OK! Magazine, in a wedding almost as storybook as her sister's. Pippa and Matthews, who dated years before officially tying the knot, according to Marie Claire, honeymooned in Australia before returning to London.
So now that Pippa and her husband are starting a family of their own, it's only natural to wonder just how many little ones they may want down the line. Well, there's one clue that Middleton won't be "one and done" after welcoming her first child; a source told People at the time of the time of her wedding that Pippa's goal was "having children and leading a quiet life." So, "children" sure does seem to suggest more than one kid in their future, right?
Another sign she might want a larger family? She's a doting aunt to her sister and Prince William's three children: 4-year-old Prince George, 3-year-old Princess Charlotte, and baby Prince Louis, who, as Town & Country reported, received one of the first family visits from Aunt Pippa when he was just hours old. And she was supposedly in the delivery room for at least one of Kate's deliveries, according to OK! Magazine.
In fact, little Prince George was almost all Pippa talked about in her appearance on the Today show, back in 2014. "He's a very dear boy...He's brought a lot of pleasure and fun for all of us, the whole family. It's wonderful [to be an aunt]. He's amazing," she gushed, according to The Telegraph.
Close as the family is, the sisters don't share one thing, luckily: Pippa revealed in the fitness column that confirmed her pregnancy that she didn't suffer any of sister Kate's severe morning sickness. "I was lucky to pass the 12-week [mark] without suffering from morning sickness. That meant I was able to carry on as normal," she wrote, according to ELLE.
Now, this might be the best clue of all about Pippa's future: As any veteran mom can attest, having an easy pregnancy makes it much easier to think about more additions to the family down the line!
And don't forget: The two sisters have always been knows as besties. As Hollywood Life reported, a source close to the Middleton family told Us Weekly that Pippa and Kate "love the idea of raising kids...the same age."
Of course, no one knows the exact future, but I'm sure I join many out there in being super-excited to watch Pippa's sure-to-be-adorable family grow with her baby-to-be's impending arrival this fall.