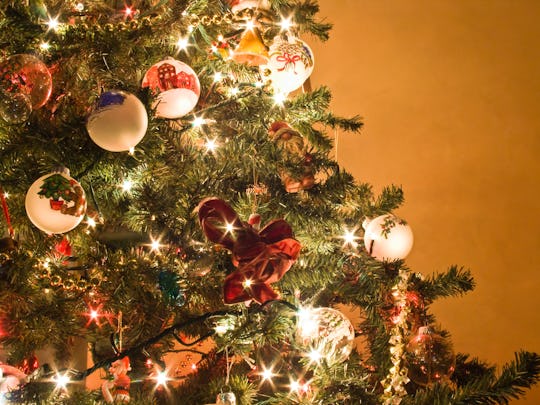 Luisa Puccini/Shutterstock
Here's The Formula To Figure Out Just How Many Lights Your Christmas Tree Needs
Trimming the tree is one of the most beautiful and beloved holiday traditions ever, but getting your merry decorations just right can take some effort. I mean, simply buying enough light strands can turn into a confusing predicament. Really, how many lights does my Christmas tree need to look all festive and bright? There's actually a general rule of thumb when it comes to illuminating that Fraser Fir.
Getting those lights right will take a little measurement, so have a tape measure ready. "The average person usually has a six-foot tree," said Karin Lidbeck-Brent, prop stylist and crafter, in Real Simple. "So an easy, general rule to remember is that for each foot of your tree, you'd want to use one strand of lights. I prefer the strands with one hundred and fifty bulbs." Of course, you're free to choose strands of lights different numbers of bulbs, depending on your preference. Double the numbers if you like lots and lots of lights.
If you want a little help crunching the numbers, then check out the How Many Lights Should I Put on My Tree Calculator from Christmas Light Source. Just enter the approximate height of your tree and preferred type of light in the drop-down menu, and you'll know how many strands to get in no time. It's an easy way to approximate your lighting needs.
Remember that there are a ton of different Christmas tree lighting options, too. Incandescent string lights have been the go-to tree decor for years and years, but LED holiday lights are another option worth considering. Available in a huge variety of shapes and colors, LED lights remain cool to the touch, are more energy-efficient than traditional bulbs, and can last for decades, according to Lowe's. In fact, LED holiday lights are recommended by the Electrical Safety Foundation International (ESFI). LED bulbs do tend to cost more than incandescent lights initially, however.
But the huge variety of lighting options gives you many more choices. Maybe you choose to wrap the tree in hundreds of tiny lights, or just a few giant, super-bright strands of LEDs. Take a moment to shop through the current lighting options, and let your imagination go wild. Hey, you can even calculate the perfect number of bulbs for your tree and then double or triple it for a full-on Christmas light fight in your living room. Sometimes, more is more. (Just follow some basic Christmas tree safety tips from Romper to keep things from getting out of hand, OK?)
There are loads of lighting choices for artificial trees as well. First, there's the option of a pre-lit artificial Christmas tree, in case you want maximum lights with minimum effort. Just pop it out of the box and you're done. To illuminate most artificial Christmas trees, you can wrap each section in 50-light strands before assembling it, as noted in Better Homes & Gardens. If you're careful with the assembly and disassembly, these lights can become a permanent part of your artificial tree. Hey, anything that saves time during the holidays is worthwhile, right? Basically, a little forethought can make lighting up your holiday season easier than ever.
This first-time mom wants to have a home birth, but is she ready? Watch how a doula supports a military mom who's determined to have a home birth in Episode One of Romper's Doula Diaries, Season Two, below. Visit Bustle Digital Group's YouTube page for the next three episodes, launching Mondays in December.