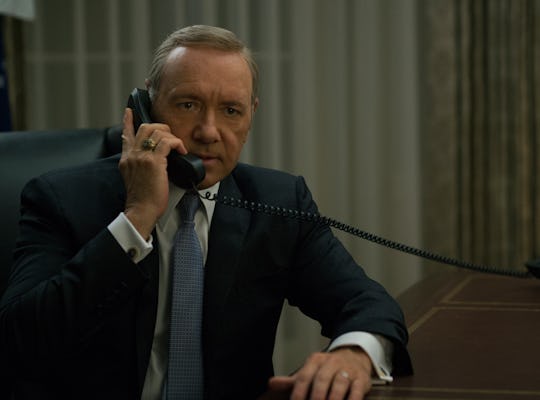 Netflix
How Many More Seasons of 'House of Cards' Are There? The Underwood's Story Might End Soon
Many House of Cards devotees would like Frank Underwood, the politician played by Kevin Spacey on Netflix's hit show, to keep on murdering and manipulating for years to come. And with Season 4 newly available for binge-watching, and Season 5 officially confirmed, this is an exciting time for fans. But how many more seasons of House of Cards are there?
A lot of people are speculating that Season 5 will be the show's last, for one big reason — showrunner Beau Willimon is leaving. Willimon created the show, and has lead it to critical acclaim over the past four years. But in a statement announcing he won't return for Season 5, Willimon said,
I'm grateful to Netflix and MRC, my fellow executive producers, our two incandescent stars Kevin Spacey and Robin Wright, our talented writers, as well as the incredible cast and crew with whom I've had the privilege to work. After five years and four seasons, it's time for me to move on to new endeavors, but I'm supremely proud of what we've built together, wish the show much continued success, and leave it in the hands of a very capable team.
Without Willimon's guiding hand, the show could spend its fifth season winding down, wrapping up all its crazy storylines, and showing just how far Frank's quest for power will take him. Or maybe new leadership is just what the show needs to reenergize and get renewed for a Season 6. Season 3 got not-so-great reviews and while Season 4 managed to get back on track, some are still complaining that the House of Cards glory days are over, especially when the presidential election on the show has some even-more-wackadoo competition in the real world.
But perhaps the new showrunners, Frank Pugliese and Melissa James Gibson, both senior writers who joined the show in its third season, can take House of Cards to a whole new level. Pugliese has a Writers Guild of America Award for Homicide: Life on the Street, while Gibson was nominated for one for her work on The Americans. So, they're pretty impressive. And if they can pull off a reinvention, maybe Season 6 will just be the beginning for President Underwood.
Because who doesn't want to see more of that face?