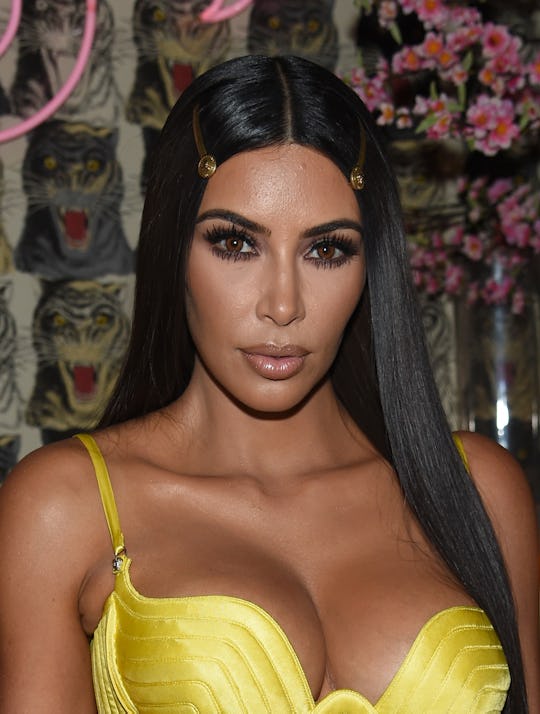 Dimitrios Kambouris/Getty Images Entertainment/Getty Images
How Many Nannies Does Kim Kardashian Have? Too Many, According To The Internet
I'm never quite sure how I'm supposed to feel about nannies. I didn't want a nanny when I had kids for a few reasons; I didn't want to give up an ounce of control, I couldn't afford it, and I had been a nanny in Switzerland when I was 19 and was really terrible at it. I figured I would be asking for some sort of cosmic kharma if I invited a nanny into my home. But if I were a busy celebrity like Kim Kardashian, would I want one? Damn straight. Although if you're wondering how many nannies Kim Kardashian has, I'll let you in on a little secret; it's more than one.
Kim Kardashian-West is now a mother of three; 4-year-old daughter North, 2-year-old son Saint, and new baby girl Chicago, who was born via surrogate on Jan. 15. Beyond being a mother, Kardashian-West is an incredibly busy business mogul; head of the KKW cosmetic and perfume empire, Kimoji app designer, kids clothing designer for Kid Supply, and of course star of Keeping Up With The Kardashians. Also she's the wife of rapper/entrepreneur Kanye West, which seems to be a pretty full time job these days. Considering she's built an empire worth $175 million, one would think she had earned the right to employ nannies to care for her children while she works, right? Just like how men can work and not get questioned for their parenting choices?
Not so much.
Kim Kardashian-West reportedly employs three nannies for her children, although they are rarely seen, according to The Cut. In fact, no nanny has ever been seen for any member of the KarJenner clan on Keeping Up With The Kardashians. And while some might suspect that the absence of nannies on the show means the family might be trying to hide the fact that they exist, I doubt that's the case. Maybe they don't want to be included on the show, or there are some production rules that many it difficult.
Either way, the people of the internet are going to judge Kim Kardashian no matter what she does. So I don't see why she would bother "hiding" them.
People are so tough on Kim and so quick to make assumptions about her life that when she recently shared a Mother's Day questionnaire she had filled out about being a mom, there were insinuations that she should have had her nannies fill it out.
If I follow the logic behind attacking Kim Kardashian-West for employing three nannies, I assume we're reverting back to the good old days of *either/or* for moms. You can either be a good, stay-at-home mom with no help whatsoever, or you can work and have nannies and be a terrible mother. That's really how we want to play this game in 2018?
Kim is allowed to say that parenting can be "overwhelming" at times, as she did on her app recently. She's allowed to say that she loves "bedtime, reading books, and snuggling together" with her children, even if she's taking naked selfies sometimes and going on vacations. She can love her children and love her body and love her husband and love her work all at the same time. Instead of bashing her for hiring nannies, why aren't we celebrating her work ethic? Maybe the fact that Kim Kardashian has created her own style of business for herself, that she's influencing people all over the world, is something her children can admire down the road.
It's not like Kim Kardashian-West is the only mother in the world to employ nannies. But for some reason, hating everything the Kardashians do has become a cultural phenomenon for some.
And it's actually pretty lame.