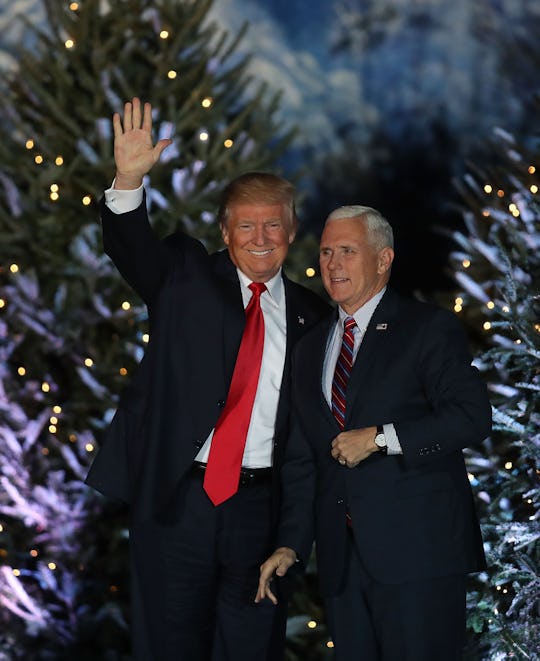 Joe Raedle/Getty Images News/Getty Images
How Many Of Trump's Cabinet Picks Have Military Backgrounds? More Than You Might Think
President-elect Donald Trump has never served in the military. He avoided the draft during the Vietnam War, for reasons of his own. He rather famously got into a Twitter war (the only kind he appears to have fought) with the father of a fallen Muslim-American soldier during the Democratic National Convention. In other words, Trump has not exactly had a love affair with the United States military. So why exactly are Trump's Cabinet picks teeming with military backgrounds?
As the Trump transition team moves closer to the January inauguration of its eponymous leader, his Cabinet picks are naturally making waves. Former Breitbart CEO Steve Bannon as the next White House chief strategist drew audible gasps, as did his choice of Rick Perry as Energy Secretary. Perry is a climate change skeptic. And yet it's Trump's penchant for tapping retired generals for his future Cabinet that are giving his critics pause. To date, Trump has chosen three retired generals for his Cabinet:
Gen. James "Mad Dog" Mattis, Secretary of Defense
Lt. Gen. Michael Flynn, National Security Adviser
Gen. John Kelly, Homeland Security Secretary
Trump is also considering retired Gen. David Petraeus for secretary of state, but he is reportedly hesitant to have four retired generals in such prominent positions in his Cabinet, according to CBS News.
Representatives for President-elect Trump did not immediately respond to Romper's request for comment on the trend.
One incoming senator has made it clear that she's uncomfortable with having a strong military presence in the White House. Illinois Rep. Tammy Duckworth, who lost her legs while serving in Iraq, said on "The Axe Files" podcast recently that she felt the appointment of three retired generals could potentially be a "real danger."
"We're the greatest nation on the face of the Earth, and the greatest democracy, because we're not a military junta," Duckworth said. "So we shouldn't be starting on that slippery slope towards it."
Duckworth went on to say she hoped that her fellow members of Congress would "do their job" and have full oversight in the appointments. And she is certainly not the only Democrat to share concerns about Trump's future Cabinet.
As Connecticut Sen. Chris Murphy recently told The Hill, "Frankly, I'm concerned by the number of generals President-elect Trump has chosen to serve in his administration. Each of these individuals have great merit in their own right. But as we've learned over the years, particularly in the past two decades, viewing problems in the world primarily through a military lens can be disastrous."
Whether or not Trump's choices will all make the cut remains to be seen; Retired Marine Gen. James Mattis, for example, only recently retired after serving under President Obama as commander of U.S. Central Command. The Defense Department does not allow a military officer to serve as secretary of Defense if they have been retired for less than seven years. The Trump administration is seeking a waiver to allow Mattis's appointment.
Whether or not fears or concerns over Trump's penchant for selecting men with military backgrounds for high-ranking positions in his administration will be quelled over time is still up in the air. For now, a good number of people remain uneasy.