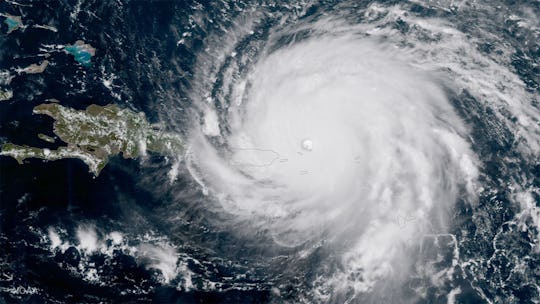 Handout/Getty Images News/Getty Images
Hurricane Irma Could Affect Thousands Of People
On Wednesday, Hurricane Irma passed over a string of Caribbean islands, cutting off all contact on the tiny island of Barbuda and leaving a trail of damage in its wake. It's set to move over Puerto Rico and the Dominican Republic throughout Wednesday evening and Thursday before possibly continuing its trajectory north towards Florida. The amount of damage caused by this hurricane has already been unprecedented, and now people are wondering just how many people will be affected by Irma by the time the storm blows over.
It's hard to predict how many people will be affected by Irma overall, but judging by the damage the hurricane has already caused, affected countries could be in for a difficult recovery. Since it hit land on early Wednesday, the storm has already reportedly left three dead and two seriously injured, according to CNN, and it's caused millions of dollars worth of structural damage.
"Barbuda is literally rubble," Gaston Browne, prime minister of Antigua and Barbuda, told ABS TV/Radio Antigua on Wednesday, according to CNN. He estimated that the storm had caused approximately $150 million worth of damage on the island, where 1,800 people live. "It is just a total devastation."
Browne reportedly said that 90 percent of Barbuda's buildings had been damaged by the hurricane, and that there was no water or phone service for residents on the island at the moment.
Although St. Martin and St. Barts have yet to confirm the extent of damage to hit the islands, both reported serious damage to buildings, power outages, and massive flooding. French interior minister Gerard Collomb told The Independent that the four "most solid buildings" on St. Martin were destroyed, spelling out little hope for older or weaker structures on the island.
Even before Irma made landfall in Puerto Rico, 300,000 had already lost power due to the storm, and another 4,000 lost water service, according to The New York Times. An electric company in Puerto Rico told The Miami Herald that parts of the island could lose power for up to six months following Irma's arrival.
Until Irma's final trajectory comes into view, it's hard for experts to assess just how much damage the storm will bring. Many are keeping their fingers crossed that the hurricane will travel north of Puerto Rico, the Dominican Republic, and Haiti, as the damage caused by Thursday alone could be devastating if the storm passes directly over top of the islands. For now, anyone in an area that could be affected should be prepared for the worst and be prepared for the full force of Irma.
Check out Romper's new video series, Romper's Doula Diaries: