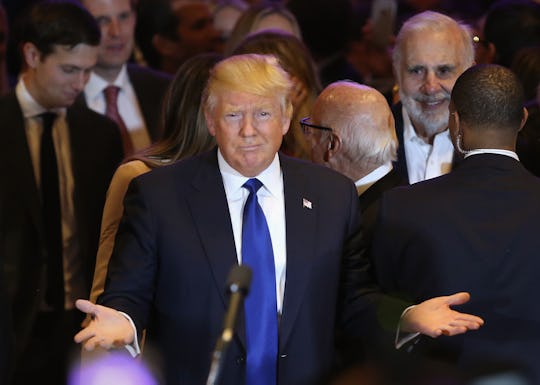 John Moore/Getty Images News/Getty Images
How Many Primaries Are Left Before The Nominations? The Race Isn't Over Yet
After decisive wins in the New York primaries on Tuesday, both former Secretary of State Hillary Clinton and business mogul Donald Trump seem poised as the presidential nominees for their respective parties. Certainly the two candidates must have been feeling pretty confident after Tuesday's polls closed in New York. But how many primaries are left before nominations? Could their challengers still make a difference?
While Clinton enjoyed a fairly narrow win over Vermont Sen. Bernie Sanders — a win she needed, considering Sanders' recent string of successes at the polls — Trump saw a crushing victory over Texas Sen. Ted Cruz and Ohio Gov. John Kasich. Unfortunately, there is little time to celebrate these wins, even for the consistently-celebratory Trump. One thing this campaign season has made perfectly clear to voters and candidates alike: you just can't be sure of what the next set of primaries will bring.
There are still 21 states gearing up to hold primaries across the United States. The next primaries will be held in a group of northeastern states: Connecticut, Delaware, Maryland, Pennsylvania, and Rhode Island on Tuesday, April 26.
And just how many delegates are still up for grabs? Well, there are 620 Republican delegates still available after New York, and 1,400 Democratic delegates, which amount to roughly one-third of all delegates for Democrats and one-quarter for the Republican side.
While all of the primaries are clearly important, political experts are paying particular attention to the June 7 presidential primaries to be held in California. The state might be holding its primaries relatively late in the game, but this year the California primaries could turn out to be the decisive voices in the final moments of the race for the presidential nomination. The voting system in California has come under fire recently for being too complicated. The primaries are not an open vote, which means voters cannot simply show up to vote in whatever party for the candidate of their choice; instead, they will need to act soon by registering as either a Republican or a Democrat if they wish to make their voices heard. California voters are being urged to register as either Republican Democrat, or No Party Preference by May 23.
Despite their losses, neither Sanders nor Cruz nor Kasich are ready to go down without a fight. Kasich in particular has been under immense pressure from the Republican Party to quit (not to mention pressure from Cruz and Trump, unsurprisingly), but he doesn't seem to be in any rush to give up. The editorial board of The New York Times pointed out that, while Kasich might not be a terribly exciting candidate, he is the "most sane-sounding individual" representing the Republican Party right now. As for Sanders, The New York Times credits him with bolstering young voters, exposing wealth inequality and social injustice, and forcing Clinton to be clearer on her platform in debates. Which means that, if Clinton does succeed as the presidential candidate, she will be much more prepared for a tough fight than she might have been without Sanders.
The next few months promise to keep voters riveted, engaged... and genuinely concerning themselves with the multitudinous issues at hand. It's an exciting time, politically, even if Trump's rhetoric seems to be more and more terrifying.