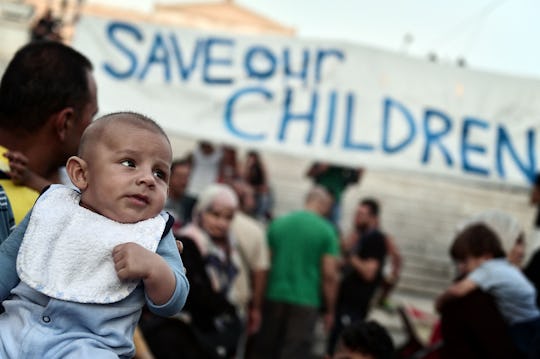 LOUISA GOULIAMAKI/AFP/Getty Images
How Many Refugees Are Children? The Number Is Heartbreaking
It's a sad fact about the world we live in that there are more people living as refugees worldwide than there have been since the mid-nineties. People are being forcibly displaced by war, displaced by cultural and religious persecution, displaced by natural disasters. While the thought of anyone being forced to flee their home is terrible, it's the number of refugees who are children that is truly horrific.
As New York City gets ready to host a United Nations General Assembly summit meeting,The Guardian reports that there are presently 15 million refugees trying to find their place in this world right now. There are 43 million people who have been "forcibly displaced," but 27 million remain in their homelands as "internally displaced people; a total of 63 million people who are in danger. And of those 63 million refugees, 41 percent are children. Just two countries, Syria and Afghanistan, are the source of half of all children refugees under the protection of the United Nations High Commissioner for Refugees, according to The Guardian.
The number of children refugees has increased by 75 percent over the last five years, and is expected to continue climbing. Unicef recently released research that suggests the number of displaced children could more than double within the next 10 years, with the already shocking number of 28 million children climbing as high as 63 million displaced children by the year 2025. 63 million.
The charitable organization War Child is urging world leaders to offer aid to these children, who are being "systemically denied" their basic human rights of education and protection from forced marriage. Hannah Stoddart, who is the director of advocacy for War Child, told The Guardian:
I've just come back from Za'atari [camp] in Jordan where many Syrian refugees have no source of income and often pull their children out of school to engage in illegal forms of child labour. There are zero opportunities for higher education and it's really sad to see when the young girls have so much ambition.
While Stoddart acknowledges the basic needs of food and shelter, she wants to highlight the need for education and protection. The risk of sexual violence against fleeing children is higher, and that parents are sometimes sending their daughters as young as 12-years-old off to be forcibly married for protection.
Children who have fled violence are suffering extreme trauma … There is acute long-term damage when children are not supported through trauma, or are out of school.
Nobel Peace Prize Laureate Malala Yousafzai wants world leaders to offer these refugee children access to a full 12-year education, or else, she warns the world could see a lost generation.
Yousafzai, the youngest person to ever be awarded the Nobel Peace Prize at age 19-years-old, was severely wounded when she was attacked by the Taliban in her native Pakistan for being a staunch activist for education for girls. She spoke to The Associated Press in Birmingham, UK, where she now lives.
It's not just giving attendance, a bit of food that will protect these families in the future, it is also education. You give education to the children of these families and you guide them and you make their future.
The United Nations General Assembly has scheduled a summit meeting for refugees and migrants in New York City on Sept. 19. A joint statement released July 28 by major NGOs including Save the Children, Oxfam, and Human Rights Watch stated that the true test of the summit's success will be whether its Outcome Document pays "particular attention to specific needs and vulnerabilities of children" regardless of their status as migrants and their parents' status as such and "recognizes obligations under international and regional human rights treaties to protect the best interests of the child and to ending the practice of detaining children on the basis of their or their parents' migration status." Let's hope it does.