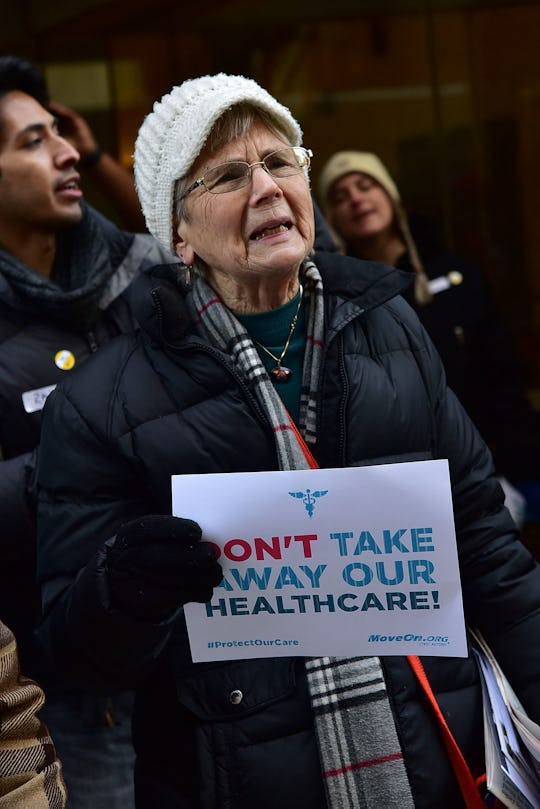 Lisa Lake/Getty Images Entertainment/Getty Images
Turns Out, There Are A Lot Of GOPers On Obamacare
Congressional Republicans have been facing pretty severe backlash in recent months over their decision to repeal and replace the Affordable Care Act. At town hall meetings across the country, frustrated Americans are questioning their members of Congress about the future of accessible healthcare in their region because as it turns out, healthcare is an entirely bipartisan issue, and everyone wants to feel as though they can afford to keep their families well — a right extended to both Democrats and Republicans, and every other party-goer in between. But before deciding to do away with the Affordable Care Act (known both as the ACA and Obamacare), Congressional GOP members should've considered how many Republicans are on Obamacare before steamrolling ahead with their half-formed plans to repeal and replace a care plan so many families rely on.
Despite the fact that Trump was elected on Nov. 8, largely due to a platform of repealing Obamacare, December 2016 saw a record number of enrollments for Obamacare 2017. According to CNBC, a whopping 6.4 million customers signed up for the Affordable Care Act, topping the year before by 400,000 enrollments. U.S. Health and Human Services Department Secretary Sylvia Burwell told the news outlet at the time that "the American people don't want to go backwards." She also cautioned that repealing Obamacare without a proper replacement could see over 30 million Americans without healthcare:
Every one of the 6.4 million people enrolled represents a story about how the Affordable Care Act has changed health care in America, and why coverage matters.
Even as House Republicans attempt to move forward with the Obamacare repeal, perhaps they might want to take a look at the constituents in their own backyards. According to CNN, 12 of the top 25 districts with the most Obamacare enrollments voted Republican. About 55 percent (or 6.3 million) Obamacare participants live in a Republican-led district, while only 5.2 million live in a Democratic district, according to a report released by the Kaiser Family Foundation.
This naturally puts Republican lawmakers in a tough position. While the pressure to repeal Obamacare in Washington continues to heat up, at home, it could be a very different story. As lawmakers headed out of Washington for Presidents Day weekend and spent time meeting with their constituents, they're faced with the heavy weight of their choices, as well as the reality of the lives they are meant to represent in Congress. When GOP Sen. Chuch Grassley of Iowa attended a town hall in his home state on Tuesday, he was confronted by voters like Chris Peterson, an Iowa farmer, who said:
I'm on Obamacare. If it wasn't for Obamacare, we wouldn't be able to afford insurance. With all due respect, sir, you're the man that talked about the death panel. We're going to create one big death panel in this country if people can't afford insurance.
Other Republican lawmakers faced the same tough crowds, some were booed when they entered the room, while others opted for conference call-in sessions rather than facing angry voters.
Instead of listening objectively to Americans who are worried about how they will afford healthcare, Trump chose to send out a dismissive tweet, accusing Democrats of staging the protests. Congressional Republicans, however, do not and should not have the option to be so categorically dismissive of their constituents.
Voices need to be heard, all across the country, no matter what side of the aisle you are on. The health and vitality of a nation and its people matters far more than whether you registered as Democrat or Republican on your voting form. It's high time our elected officials started paying attention to that.