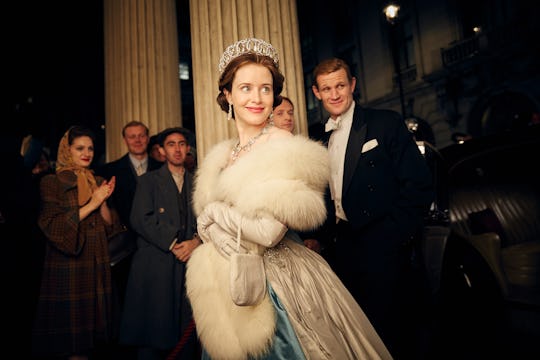 Robert Viglasky/Netflix
How Many Seasons Will 'The Crown' Be? Queen Elizabeth II's TV Reign Looks Bright
If there's one thing Netflix is good at, it's churning out original TV shows that do well enough to not only gain more seasons, but also a ton of dedicated followings. With the new Netflix series, The Crown, it's no different. So how many seasons will The Crown be, exactly? The first season was available for streaming on Nov. 4 and has already brought in the kinds of reviews to make fans believe in more seasons to come, and they aren't wrong.
In real life, Queen Elizabeth II has ruled over England as the longest reigning monarch of any queen before her, with more than 63 years under her belt (and counting). This means that not only will the expensive Netflix series — which has already cost the streaming service more than $100 million — have a lot of ground to cover, but fans will need ample time to follow her majesty's journey as Queen. But how many seasons of The Crown will there actually be?
According to Vanity Fair, the official plan is for The Crown to last six seasons, with each season detailing a decade of Queen Elizabeth II's monarchy in England, bringing viewers up to her present-day reign. While 10 years might be a lot of ground to cover in just one season, there is no real way to end The Crown if it doesn't play out the life and reign of Queen Elizabeth II to its fullest potential.
Thankfully, Season 2 has already been confirmed for The Crown, which probably has something to do with it getting a 90 percent rating on Rotten Tomatoes and glowing reviews all around. However, the plan for a total of six seasons isn't cemented in stone (yet), as Netflix will undoubtedly have to look at the viewership numbers for each season in order to decide how long The Crown will reign supreme, so to speak. Having a show like The Crown last for six seasons, while remaining as historically accurate as possible and as fabulous as the first season was, will also warrant a change in the cast somewhere down the line. Or, at the very least, amazing makeup work that won't look too forced.
So while the idea behind having more than 60 years of Queen Elizabeth II's reign last over the course of six seasons is genius, there will definitely have to be some details ironed out to make that work for both the cast and the fans.
The Crown Season 1 is available for streaming right now on Netflix, so you can get your royal fix until Season 2 arrives.