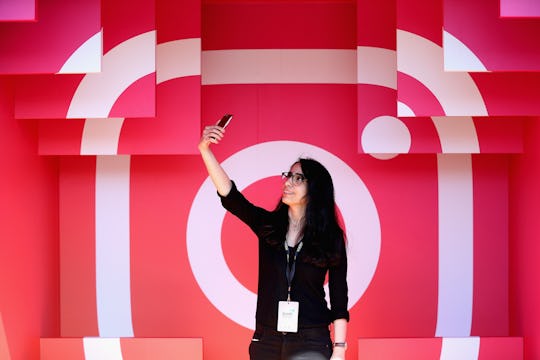 Francois Nel/Getty Images Entertainment/Getty Images
How To Cover Your Instagram Story In Selfie Stickers
Instagram recently rolled out a new feature that will totally change the way we think about selfies. No it's not an updated version of a selfie stick or a funny filter to change up the gratuitous shots in your feed. It's something the beloved app calls a "selfie sticker," which is essentially a way for users to take mini photos of themselves that they can stick all over their Instagram Stories instead of the standard emoji selection. If you're thinking what I'm thinking, you might be wondering just how many selfie stickers you can put in your Instagram Story at a time, or if there is a limit of how many you can put on one photo until the new feature really gets out of hand.
Well, you're in luck as it doesn't appear that the app has put a cap on the amount of selfie stickers users can put in their Instagram Stories or on a single photo. That's right, you can cover a selfie in dozens of selfies if you please. You can also use the selfie sticker tool on videos and Boomerangs. As Instagram wrote on its blog, "it's never been easier to have playful, visual conversations with close friends" with these new updates that give users more options to "turn your most casual, everyday moments into something fun to share."
And it's pretty simple to use, especially if you're familiar with Instagram and all of its neat features. To take your first selfie sticker, follow these steps:
Open the app and snap a photo or shoot a video by tapping on the camera icon in the top left corner.
After you've done that, tap on the smiley face icon on the upper right corner of the app.
From there, you'll tap on the camera icon, which you'll find below the location feature, and take your mini-selfie.
If you wish, you can change the frame around your selfie sticker and adjust the size of it as well — just move your two fingers in or out on the image, like you would to zoom in or out on a photo.
Once all looks good, you can start from the beginning and add more stickers to that first image or you can go ahead and share it on Instagram Stories.
Or if you're more of a visual person, watch this simple tutorial:
Instagram rolled out this new feature to celebrate reaching a milestone of having 200 million people use its Stories and Direct messages features daily. An impressive accomplishment, indeed. But what you and your Instagram friends will create with selfie stickers could take the cake.