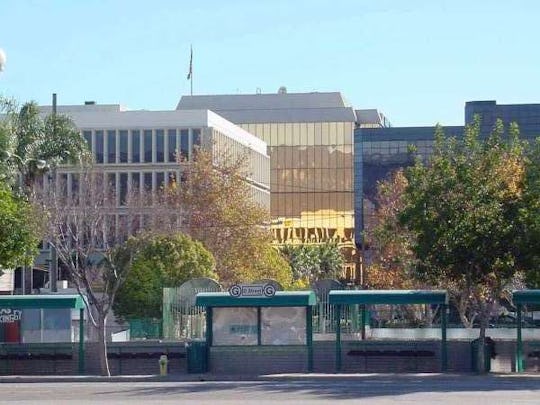 Wikimedia Commons
How Many Shooters Are There In San Bernardino? Shooting Details Emerge
Update: According to officials, two of the suspected San Bernardino shooters are dead following a shoot-out with police, and one of the suspected shooters is a female. Late Wednesday authorities identified the suspects killed as Syed Farook and Tashfeen Malik, the woman, and said they had been in a relationship. Farook was a U.S. citizen and an employee of the of the San Bernardino County Health Department. Further details about Malik are not yet known. Police also detained a third individual at the scene, but it's unclear whether or not that person is connected to the shooting at the Inland Regional Center (where officials say they might have found an explosive device).
In a press conference earlier, the San Bernardino Police Department Chief Jarrod Burguan confirmed that up to three people opened fire at Inland Regional Center, leaving upwards of 14 people dead, with at least 21 additional people injured. At the time of the press conference, law enforcement was still clearing the scene, and the search for the suspects was ongoing.
Earlier: As law enforcement officials continue investigating a mass shooting at the Inland Regional Center in California, information is coming in regarding the number of people involved. CNN reports that there appear to be between 1 and 3 shooters in San Bernardino. The estimate was originally tweeted by the San Bernardino County Sheriff's Department; at this point, officials believe there are probably 3 suspects. During a press conference shortly after 2 p.m., Police Chief Jarrod Burguan said that the suspects fled the scene and may be in a dark-colored SUV. All individuals in the area are urged to exercise extreme caution. Chief Burguan reported that at least 14 people are dead and 17 people are injured.
This morning, the San Bernardino Fire Department tweeted that they were responding to what was believed to be a mass shooting with 20 victims. Inland Regional Center — the reported location of the shooting — provides support to people with developmental disabilities. Officials believe the shooting may have taken place during a meeting or "lunch-type gathering", saying that most or all of the victims were found in the same location.
Officials ask that anyone with information regarding the shooting call 1-866-346-7632 or, if they want to be anonymous, 1-800-78-CRIME. David Bowdich, assistant director in charge of the FBI's L.A. office, told reporters that family members of anyone who was inside the Inland Regional Center may go to the nearby Hernandez Center for more information. All uninjured people evacuated from the building have been taken to a safe location and are considered part of the investigation.
This story is developing...
Image: Wikimedia Commons