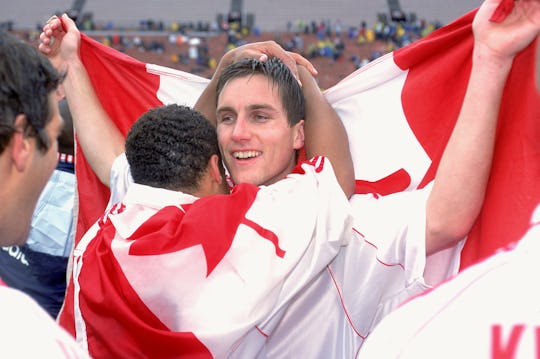 Stephen Dunn/Getty Images Sport/Getty Images
Students Head To Canada Ahead Of Trump Presidency
President-elect Trump never quite seemed to connect with millennial voters, did he? We could blame his age, but Vermont Sen. Bernie Sanders never seemed to have much trouble encouraging young voters to "Feel the Bern." Who knows why millennials never warmed to Trump (OK, I have some pretty solid ideas but I'll keep them to myself for now), but it doesn't look like they're warming to him any time soon, especially when you look at how many students are applying to Canadian colleges compared to previous years. And I don't think it's just about the sweet free health care, either.
According to University of Toronto vice president Ted Sargent, the prestigious university has seen a 70 percent increase in applications from American students since November (right around the time of President-elect Trump's surprise victory over former Democratic nominee Hillary Clinton). Sargent pointed out to Vice that there "could be a Nov. 8 effect", but that the university has also been working to raise its profile to "attract the best students" to study in a city that has a reputation for being culturally diverse like Toronto. The city of Toronto also benefits from its proximity to the U.S.-Canada border, and was ranked as one of the top five public institutions in North America, according to the most recent World University rankings.
The University of Toronto was not the only Canadian institution to see a surge in applications; McGill University in Montreal, Quebec saw 22 percent more American applicants since November, and McMaster University in Hamilton, Ontario saw a 34 percent hike. Universities in British Columbia also saw a big increase in U.S. applications after the election. Canada has long boasted some of the best schools in the world, with eight of its universities ranked in the top 200 in the world (not to mention cheaper tuition, better chances for permanent residency, and a simpler application process). But it took the possibility of a Trump presidency to really get American students looking north for their study options.
One American student, Lara Godoff, said she had exclusively applied to Canadian universities for a few reasons, not least of which because she and her parents both felt it was "safer":
Trump is so new to this political game, and I don't know what he's capable of doing. I'd rather go to Canada, somewhere my parents also feel is safer for me. I see what he says about women, and I don't think having a leader like that is something good for the country.
This surge in applications from American students to Canadian universities is relatively new; In the past, numbers have been pretty low. In 2014, only 9,000 American students attended Canadian colleges and universities. But 2014 was a different year with a different president... and a different Canadian Prime Minister. Lara Godoff pointed out that it wasn't just concern for Trump that saw her applying to school in the Great White North, but support for Prime Minister Justin Trudeau as well.
"Justin Trudeau is a great leader, in my opinion, and I think going somewhere where people have the same beliefs as me would be a good thing," Godoff said.
Whatever the reason, those college-bound students would do well to remember one thing when packing their bags to head north: Politics and divisive rhetoric may be heating things up quickly down here, but those Canadian winters can be brutal. Pack a parka.