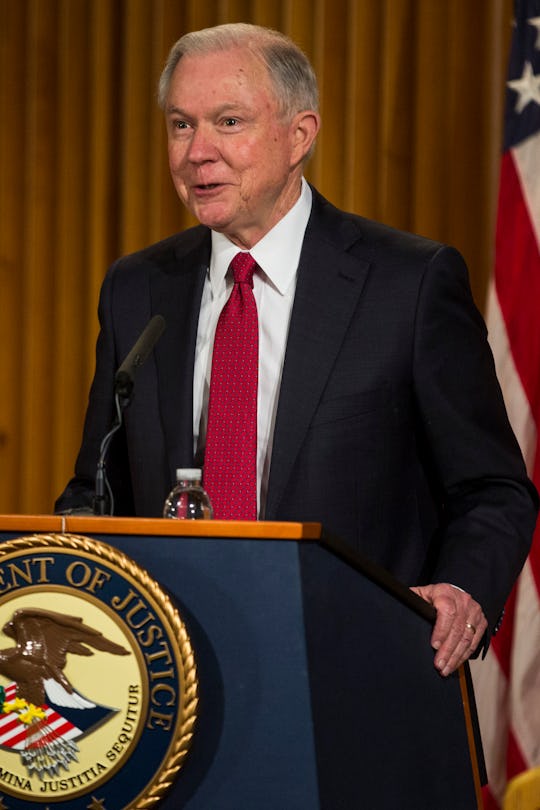 Zach Gibson/Getty Images News/Getty Images
About Jeff Sessions' Visits With The Russians
It looks like things are off to a bad start for President Trump's newly minted Attorney General Jeff Sessions. Despite Sessions' assertion during his Senate confirmation hearing that he was unaware of any Trump surrogate meeting with Russians during the election, it turns out he failed to mention a few pertinent meetings of his own with the Russian ambassador. As of Thursday, Sessions has since recused himself from sitting in on further investigations into the Russian "hack" of the election, leaving political pundits to wonder how many times Sessions met with the Russian ambassador and whether any additional lines of inquiry into Sessions himself will be pursued.
According to The Washington Post, Justice Department officials found that Sessions met with Russian ambassador Sergey Kislyak twice during the 2016 presidential race: once on the sidelines of the Republican National Convention in July, and another time privately in Sessions office in September, when Sessions (then a senator from Alabama) was a member of the Senate Armed Services Committee. CNN reported that Kislyak is considered by U.S. intelligence officials to be one of Russia's top spies.
When Sessions was being questioned by Democratic Sen. Al Franken of Minnesota during his Senate confirmation hearing, he was asked what he might do as attorney general if he were to learn that any Trump affiliate had been in contact with the Russians during the campaign. The Washington Post reported that Sessions responded at the time:
I'm not aware of any of those activities. I have been called a surrogate at a time or two in that campaign and I did not have communications with the Russians.
Romper has reached out to the White House for comment and is waiting for a response.
Sessions was given another opportunity to come clean during his Senate confirmation hearing; Vermont Sen. Patrick Leahy wrote this question to Sessions:
Several of the President-elect's nominees or senior advisers have Russian ties. Have you been in contact with anyone connected to any part of the Russian government about the 2016 election, either before or after election day?
Sessions replied simply, "No."
According to the same report by The Washington Post, Sessions continued to stay silent on his meetings with the Russian ambassador until Wednesday, when he released a statement that read in part that he had "never met with any Russian officials to discuss issues of the campaign. I have no idea what this allegation is about. It is false."
Sarah Isgur Flores, Sessions' spokesperson, defended the attorney general by saying that he hadn't spoken to the Russian ambassador about the campaign:
He was asked during the hearing about communications between Russia and the Trump campaign — not about meetings he took as a senator and a member of the Armed Services Committee.
In a statement to Romper on Thursday, a Justice Department spokesperson reiterated Isgur Flores previous comments, stating,
There was absolutely nothing misleading about his answer. Last year, the Senator had over 25 conversations with foreign ambassadors as a senior member of the Armed Services Committee, including the British, Korean, Japanese, Polish, Indian, Chinese, Canadian, Australian, German and Russian ambassadors. He was asked during the hearing about communications between Russia and the Trump campaign--not about meetings he took as a senator and a member of the Armed Services Committee.
The news about Sessions' potential ties with Russia comes mere weeks after reports that Trump's pick for national security adviser, retired Lt. Gen. Mike Flynn, also met with the Russian ambassador. The two met after Trump was elected president on Nov. 8, and their conversation was caught on tape, according to USA Today. The two men allegedly talked about sanctions against Russia put in place by President Obama in retaliation for the Russian hacking of the election. Flynn asked the Russian ambassador not to retaliate, then admittedly misconstrued the situation in speaking to the White Hosue. He has since resigned his position.
Whether or not Sessions might follow Flynn down that same rabbit hole remains to be seen.