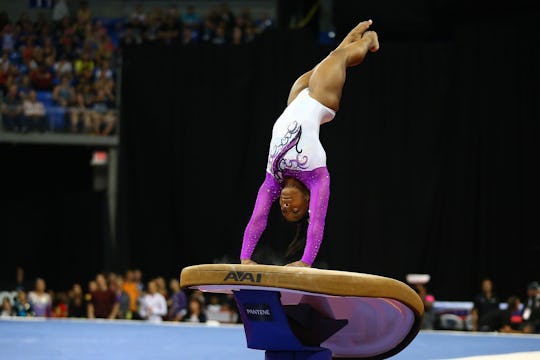 Dilip Vishwanat/Getty Images Sport/Getty Images
How Many Vaults Do Gymnasts Do In Competition? It Depends
If you're watching the Olympic gymnastic trials or just anticipating the gymnastics competition at the Rio Olympics in August, you may be wondering, how many vaults do gymnasts do in competition? Confusion can arise watching qualifier events like the trials in particular, because some gymnasts do two and some do just one. For instance, Ashton Locklear did just one Friday night at the first night of the trials in San Jose, California, whereas Simone Biles and others did two.
The answer is actually fairly complicated and depends on what the gymnast's goals are. In team finals and all-around events, each gymnast will only perform one vault, but if the gymnast wants to compete in the vault finals, she has to perform two vaults in the qualifying competition. The USA Gymnastics website explains in detail:
In qualifying and all-around finals, each gymnast performs one vault. In the team qualifying competition, any gymnast wishing to qualify to the individual event finals for vault must perform a second vault from another vault skills group. The score of the first vault counts toward the team score; the vaults are averaged for qualification to vault finals. In individual event vault finals, the gymnast must perform two vaults from different vault groups. An average is determined from the two scores.
The "vault groups" mentioned are basically three families of vaults: "Yurchenkos (round off entry vaults) with two or more twists," "handspring front-entry vaults," and "Tsukahara vaults with twists." The difficult Amanar vault that Simone Biles and Aly Raisman perform is a Yurchenko. The Prudnova, widely considered the most dangerous vault in competition, is a handspring front-entry vault. (Simon Biles does not perform the Prudnova because, as she told The New Yorker, "I'm not trying to die.")
Simone Biles and Aly Raisman, both favorites to make the Rio Olympic team, are likely to be the U.S. team's vault specialists and potentially compete for medals in the individual vault finals, so both performed two vaults the first night of the trials and will again Sunday night, when the trials conclude.