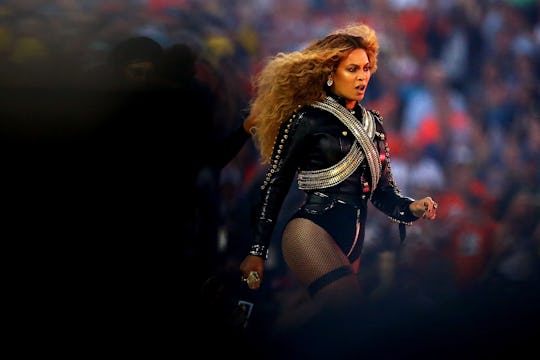 Ronald Martinez/Getty Images Sport
How Much Are Beyonce's Formation World Tour Tickets? Snagging Seats Won't Be Easy
Beyoncé announced her Formation World Tour at the Super Bowl today, and, of course, fans are now trying to find as much information as possible about the tour. If she visits your city, how much are Beyoncé Formation World Tour tickets? Are you talking about sacrificing a couple of meals out here, or your first-born children? Tickets aren't available yet, but Billboard estimated that they will cost anything from $65 to $350 dollars. It's Beyoncé, so that's definitely doable, even if it means eating cheaply for a few weeks... or months.
"Formation," which debuted Saturday, was the first single off of Beyoncé's new album, and it's already being called an instant classic. Not that Beyoncé needed anything to push her forward, really — her 2013 tour, the Mrs. Carter World Tour, had over two million attendees and grossed over $200 million, according to Billboard. But since then, Beyoncé has been laying relatively low (at least for Beyoncé standards) in terms of albums and tours.
There will be 40 concert dates in all, and Beyoncé will be playing in cities across North America and Europe. Pre-sale tickets go on sale Feb. 9 and Feb. 15 for members of Beyoncé's fan base. The rest of us mortals get to purchase tickets on Feb. 15 (for those in Europe) and Feb. 16 (in North America).
To get extra stoked, here's "Formation." Watch. Re-watch. Get ready.
The first show kicks off in Miami on April 27. Get in formation, fans.