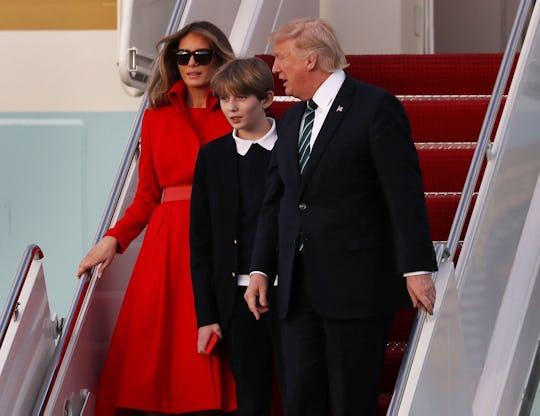 Joe Raedle/Getty Images News/Getty Images
Just How Costly Are Trump's Trips To Mar-A-Lago?
There was a time, not so very long ago, when then-presidential candidate Donald Trump insisted he would be eschewing vacations if he were elected. When he said there would simply be too much to do to "make America great again" and vacations would not be an option. These days, President Trump must be suffering from convenient amnesia brought on by sunstroke from all of his time playing golf in the Florida sunshine on weekends. Eight consecutive weekends away from the White House, in fact. Trump's trips to Mar-a-Lago come at a high cost to taxpayers, and once wife Melania and son Barron join the entourage, things are bound to get even more expensive.
In fact, several Congressional Democrats including Sens. Elizabeth Warren and Tom Udall have formally requested a probe into Trump's frequent trips to his Palm Beach, Florida resort. The Government Accountability Office reported Monday that it would be looking into Trump's visits to Mar-a-Lago shortly. The agency is also expected to look into whether or not Trump has reimbursed the United States Treasury for profits he received while foreign government officials were staying at his hotels, according to a report by CNN. During a news conference in January, Sheri Dillon, a tax lawyer who represents Trump, insisted he would be transferring any profits he received to the U.S. Treasury:
He is going to voluntarily donate all profits from foreign government payments made to his hotels to the United States Treasury. This way it is the American people who will profit.
Romper has reached out to the White House for comment and is awaiting a response.
The actual cost of President Trump's weekend trips to "the winter White House" (Trump's new name for Mar-a-Lago, despite the fact that he has owned the private club since 1985) are difficult to pin down precisely. Security needs change with each visit depending on whether or not foreign government officials are visiting (like the weekend Japanese Prime Minister Shinzo Abe was in attendance). But a recent report by The Washington Post noted the U.S. Secret Service requested $33 million for travel costs for the president, his family, and visiting heads of state. (That just includes the president, too — those numbers don't take into account any costs incurred if Melania and her son accompany Trump.)
Three Florida lawmakers have also requested the White House reimburse Palm Beach county for costs incurred by Trump's visits to Mar-a-Lago. A letter to the White House, written by Democratic Rep. Lois Frankel and two co-signers, read in part:
While we want the fullest protection for your visits, we hope that you would be responsive to the losses of small businesses and residents of Palm Beach County. If compensation is not assured of being forthcoming, we respectfully ask that you curtail your visits until such time as that matter is resolved favorably to our area.
As the Government Accountability Office moves forward with its probe into Trump's Mar-a-Lago visits, it will be interesting to see whether these visits will be curtailed for the duration. Or maybe Trump will simply pick another resort to benefit from a little free advertising through his visits.