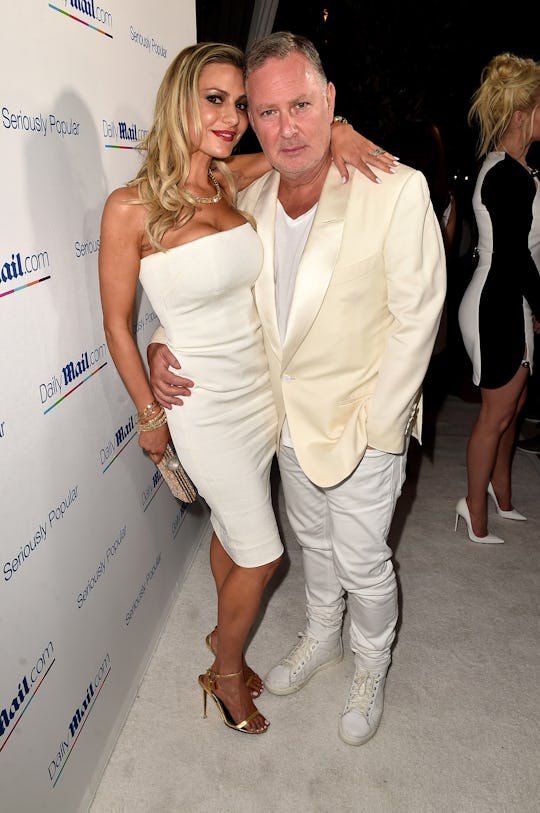 Alberto E. Rodriguez/Getty Images Entertainment/Getty Images
Dorit Kemsley's Nannies Are Earning A Pretty Penny
When Season 7 of The Real Housewives of Beverly Hills premiered on Dec. 6, many long-time viewers immediately took note of the new face among the crowd of familiar uber-glam (and uber-dramatic) housewives. Dorit Kemsley was introduced on the series' latest season premiere as the wife of Paul "PK" Kemsley, an English businessman. Right off the bat, Dorit's somewhat surprising number of nannies was highlighted by Bravo as one of the notable things about the fashionable socialite. But exactly how much do Dorit Kemsley's nannies earn?
Information about the exact salaries that Dorit's nannies make isn't widely available, but as all parents know, quality childcare doesn't come cheap — particularly for around-the-clock care and for very young infants. Given Dorit's busy multiple careers, it's no wonder that she's hired several childcare professionals to watch her children so that she can work — after all, fathers are free to work full-time without judgment, and why shouldn't mothers be allowed to do the same?
Dorit and PK have two young children, which includes their son Jagger and their daughter Phoenix. Dorit's rather large childcare and house staff was one of the first things that Bravo mentioned about the newest housewife addition, in their sneak peek at the currently airing season of the long-running RHOBH. But Dorit was quick to address and defuse any shade that might've been thrown at her about the seemingly excessive amount of help her family relies on.
"Currently, my staff includes Peggy, who's baby nurse, Neila, Jagger's main nanny, and then I've got a few nannies for Jagger and Phoenix—to fill in—three full-time housekeepers, and Tiffany, who's my husband's assistant," Dorit explained to E!. "For those who will criticize me for having a big staff," she clarified, "I'm not exactly lounging in bed eating bonbons."
While that certainly might seem like a lot of extra hands, if the Kemsley's can afford the help, why not get it? Based on Dorit's Instagram account, which is filled with pictures of both parents doting on their children, it's clear that the couple spends plenty of quality time with their babies.
The 40-year-old reality star is certainly busy enough to warrant the extra help. While she's described as a full-time mother in her bio on Bravo's website — and as we all know well, being a parent is a full time job in and of itself — she also works closely with her husband, PK. Together, they own a management agency called Nixxi Entertainment, where they represent talent including English pop star, Boy George. Before meeting and marrying PK, Dorit also worked at a global swimwear company for ten years before moving to New York City to start her own fashion line, Dorit, which specializes in "Italian resort and swimwear."
On top of her fashion and management careers, Dorit also works as an "active philanthropist," supporting Safe Kids, an organization dedicated to preventing children's injuries. Clearly, Dorit takes child safety very seriously — so it's no wonder that she's gone above and beyond to ensure that her own children are well looked after when she's not there to watch them herself. Suffice to say, this is one Real Housewife who seems to certainly have her priorities in order.