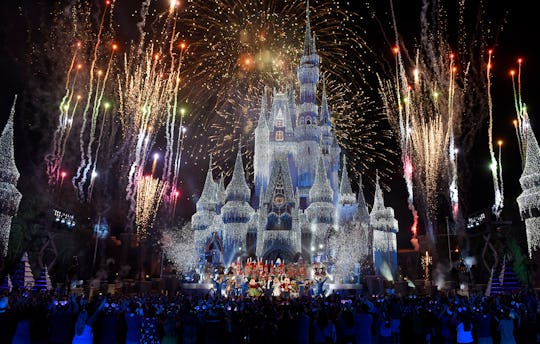 Handout/Getty Images Entertainment/Getty Images
Traveling To Disney During Christmas? Here's What You Can Expect To Pay
Most people consider Disney the happiest and most magical place on Earth. So who wouldn't want to spend the happiest and most magical holiday there? If you're hoping for a magical winter vacation with your family, filled with mouse ears and Santa hats, you may be wondering how much does Disney cost during Christmas? Do you have to refinance your house? Will you still feel magical and happy after you get your bill?
According to Tim Elrod, a travel agent specializing in Disney vacations, "A Disney vacation during the Christmas season can be affected by many different variables, including the amount of people, resort type, ticket types," and more.
And depending on your price point, Elrod says there are many different packaging options for different types of budgets. "This year, Disney has offered several different packages and discounts at Christmas. For example, the Holiday Magic Package discounts a family's trip when they package a resort stay, plus park tickets. Meaning a family can enjoy a package that includes a 4-night stay in a standard room at a select Disney's All-Star Resort and 4-day Magic Your Way® base tickets for as low as $2,215. And the sample package price is valid for a family of four for stays most nights from Dec. 8 through Dec. 24, 2017," Elrod explained. This would give you access to all four parks, one park per day. Note that Disney doesn't offer discounts from Dec. 25 through Dec. 31, which would make everything more expensive.
If you're not doing a family package, in addition to a day pass for the Magic Kingdom (which is typically around $104 depending on the day, season, how you book, and the age of the person whom you're buying a ticket for) travel planner Tracy Englund adds, "There is an additional Christmas party ticket price, and the cost of that varies depending on the popularity of certain days, the closer to Christmas it is, and the weekend." According to the Disney website, the current ticket price for the Christmas party is between $90 and $95 at the beginning of December, and up to $109 closer to Christmas.
What makes a Disney Christmas so magical? Elrod says, "The decorations, the music, the entertainment — you just can't beat it. Even though it is the busiest week of the year, you can still have a ton of fun if you plan your trip correctly. This is why it is such a great idea to book with a travel agent that specializes in Disney Destinations."
However, if you're looking for off-season times, Elrod says, "My wife and I joke that there aren't really off-season times to visit Walt Disney World anymore. We typically go every September, and we can remember back to 2008 and 2009, literally every ride being a 5-minute wait or less." Now with more schools doing year-round calendars with longer breaks in the middle of the year, that short wait doesn't really happen anymore, according to Elrod. "That being said, there are still great times to visit the parks. January and February (avoiding holiday weekends), September, and the first couple weeks of December are all great times to go."
What makes Disney the happiest place on Earth? It's the memories, according to Elrod. And I have to agree, because my most vivid birthday I've ever had was my fourth birthday at Disney World, when Goofy called me on the phone and sang "Happy Birthday" to me. Still hasn't been topped to this day and I'm 32 years old.
So when booking a Disney vacation, whether at Christmas time or otherwise, it appears as though the prices will vary depending on who you book through, the time of year you book, what parks you want to visit, and which resorts you want to stay in. Thank God there are people like Elrod and Englund who are there to help schmucks like me who can't keep her head above water when trying to figure out all the minor details.
Check out Romper's new video series, Romper's Doula Diaries:
Watch full episodes of Romper's Doula Diaries on Facebook Watch.