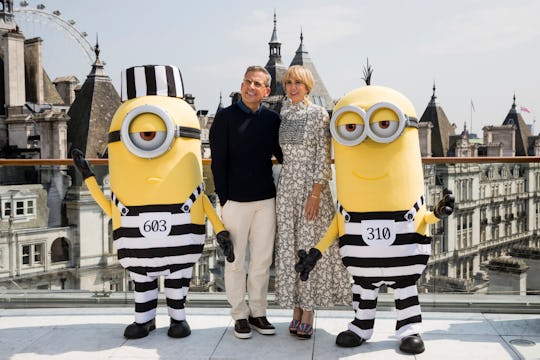 Tristan Fewings/Getty Images Entertainment/Getty Images
Here's What It Costs To See 'Despicable Me 3' In 3D
While summer certainly brings with it some great perks, it's not exactly all sunshine and rainbows. Well, maybe it's a little too much sunshine, actually. Parents everywhere can relate to the struggle of finding enough summertime activities for their little ones, without subjecting the entire family to raging sunburns. Luckily, summer also means dozens of new movies coming out — take, for instance, Despicable Me 3. The highly anticipated third installment of the 2010 blockbuster hit will hit theaters everywhere this weekend, and already, little ones are clamoring for a ticket. So how much does it cost to see Despicable Me 3 in 3D? The answer will vary, depending on where you live.
Of course, seeing the new film in standard format, without tiny yellow Minions popping out at you sounds perfectly pleasant. But sometimes, when you go to the movies, you want to make it an all-out event. So, you go 3D. However, that will also typically mean that you're shelling out some extra bucks for the experience. City-dwellers will be familiar with paying a cool $20 for just one ticket to a movie, and prices go up even higher when you decide to go the 3D route. But, just how much? And will smaller-town theaters also charge exorbitant amounts?
Well, let's take a case study, shall we? A normal movie ticket in Los Angeles to see Despicable Me 3 will cost adults around $17, and children $13. However, if you want to go the 3D route, those prices get hiked up to around $21 per adult, and $17 for each kid. Obviously, this isn't exactly a budget-friendly night out for everyone, but if you're willing to splurge, it's doable.
Then again, if you live in a smaller town, your ticket prices will definitely be cheaper. For a regular movie screening, an adult ticket to Despicable Me 3 in small-town Marble Falls Texas, for example, will typically run about $7, and $5 for children. Going 3D will still cost more, but will also be significantly cheaper than tickets in the big city, with costs averaging $10 for adults and $8 for kids.
As previously mentioned, these numbers are simply rough estimates, and you'll definitely want to double check costs with your local theater before heading out. It can be nice to get out of the heat for a few hours, and family friendly movies like Despicable Me 3 are the perfect way to do just that. Whether you see the film in 3D or standard, it's sure to be a great family night. (And seriously, who could resist double the Steve Carell?)