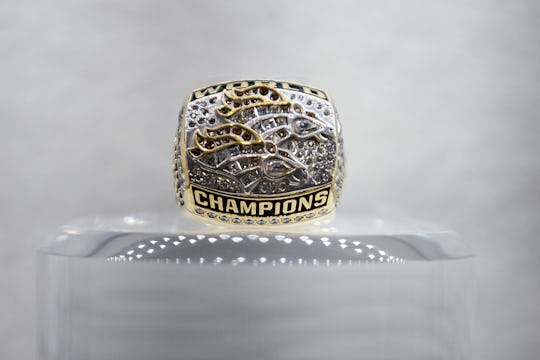 Jason O. Watson/Getty Images Sport/Getty Images
The 2018 Super Bowl Ring Is Not Exactly A Cheap Item
Growing up in Pittsburgh means I am no stranger to the hoopla that surrounds a Super Bowl. After all, the Steelers have won six Super Bowl games, making them the only — ahem — team to clinch that many victories. But this year the Steelers won't see a Super Bowl arena, instead giving the Philadelphia Eagles and New England Patriots a chance to face off this Sunday, Feb. 4. The team that wins will victoriously announce, "I'm going to Disney World!" but they will also score a a blinging ring. But how much does the 2018 Super Bowl Ring cost?
The 2017 ring designed for the Patriots has an undisclosed price, but with more than 280 diamonds, it's safe to say it wasn't cheap. Some points of reference include the Broncos 2016 Super Bowl 50 Championship ring which, according to the team's site, featured 212 diamonds set in a 10 karat white-and-yellow gold ring. Although the price tag for the ring was never revealed, it was estimated to be more than $37,000, which is just slightly steeper than the New England Patriots 2015 Super Bowl rings at $36,500.
So, how much will the 2018 winner's ring clock in at? I guess that depends on the victor and how expensive their taste is. After all, if the Patriots win, then it will be the team's sixth win, meaning a celebration that requires 300 or more diamonds might be in order. On the other hand, a spending spree of another sort might be required for the Eagles: Although the team has made it to the Super Bowl three times, they have never won. The most recent appearance prior to their upcoming 2018 game was a 24-21 loss to the Patriots in Super Bowl 39, according to Sporting News.
That being said, the cost of the rings depends on the jewels and other materials that are used to make them. For instance, the Patriots' 2017 ring included their logo made from a custom-cut created corundum sapphire and ruby, according to the team's website. An additional corundum sapphire in the background surrounds the logo and five Vince Lombardi Trophies. Each trophy features a marquise-cut diamond and is pavé-set with brilliant round diamonds. The rarity of the rings — there are only about 150 made each year — makes them even more valuable. While some athletes sell memorabilia for financial reasons, others have been auctioned for charity. For instance, former Chicago Bears tackle William "Refrigerator" Perry's 1985 ring sold for $203,150 in July 2015, while New York Giants Lawrence Taylor's 1991 ring sold for $230,401, according to LiveAuctioneers.com.
It's safe to say the 2018 champions' ring will clock in somewhere around $40,000 which means it will be approximately the cost of a 2017 Lexus IS or 2017 Mercedes-Benz C-Class. With that much spending money, you could also buy a boat or a number of fixer-upper houses — yes, houses.
Of course, none of that matters to the most devout of Super Bowl fans. Pumped up Eagles fans have already made their way to Minnesota where the Super Bowl will take place at U.S. Bank Stadium and even SNL has gotten in on the chatter surrounding the big game. As for people like yours truly who show up to Super Bowl shindigs for the food, well, there is no shortage of festive recipes that range from BBQ Chicken French Bread Pizza to Cheesecake Nachos. Yeah, you heard that right.
As for this Pittsburgh girl, I will be sitting next to my Philly-raised husband who will be watching every second of Sunday's game. I mean, it's the least I can do because, seriously, it's time we threw the other Pennsylvania team a bone, am I right?
Check out Romper's new video series, Bearing The Motherload, where disagreeing parents from different sides of an issue sit down with a mediator and talk about how to support (and not judge) each other's parenting perspectives. New episodes air Mondays on Facebook.