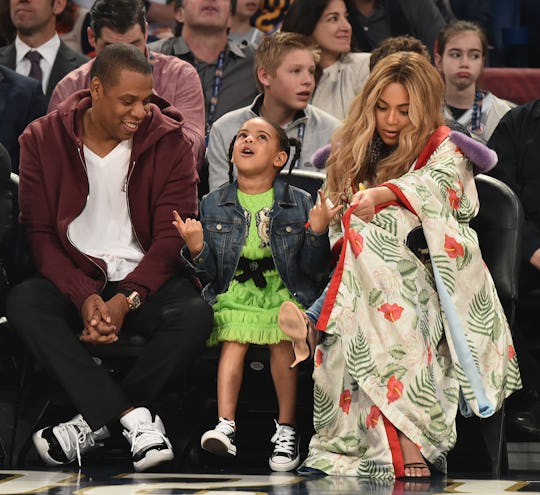 Theo Wargo/Getty Images Entertainment/Getty Images
Beyoncé Fans Are Spending A Ton Of Money To See Pictures Of Bey & Her Family
The Carter family has essentially become American royalty, if that's a thing we're still doing at any rate. Beyoncé, JAY-Z, and their three children have become the stuff of legends, conspiracy theories, and mildly disturbing social media obsessions. So, even considering how much Beyonce's How To Make Lemonade is, it's no surprise that fans are willing to shell out a whole lot of dough to see photos of Beyoncé and her family.
The Grammy award-winning singer recently announced that she would be releasing a limited edition vinyl box-set, How To Make Lemonade, which was accompanied by a 600-page book. Bey's visual album Lemonade was considered a landmark achievement on both a personal and professional level for her, richly beautiful and startling honest at the same time. And now it seems Bey is ready to give a little insight into the vision and the work that went into Lemonade. According to the website, Beyoncé fans are in for quite a treat:
The How To Make Lemonade box-set is a momentous tome and comprehensive look at Beyoncé's LEMONADE journey. The How To Make Lemonade box-set gives unprecedented insight into the making of multiple award-winning LEMONADE, with a numbered, collector's edition coffee table book, double vinyl LP, and audio and visual album downloads.
The 600-page glossy coffee table book that will accompany the box-set promises to be full of behind-the-scene photos, not just of Bey performing and practicing with backup dancers (which we're obviously totally here for) but also personal family photos. Candid pictures of her five-year-old oldest daughter, Blue Ivy, being cuddled by both her parents, mix in with cameos from several collaborators who worked with Bey on Lemonade.
Beyoncé's own personal thoughts and insights feature heavily in the box set, but How To Make Lemonade was also created as a tribute to the many people who made Lemonade such a success. The foreword was written by Dr. Michael Eric Dyson, a renowned professor of sociology at Georgetown University, and included more work by acclaimed British poet Warsan Shire.
So much has changed for the Carter family since Lemonade; JAY-Z released his own album, 4:44, and I'm not sure if you heard but they also had twins.
On June 14, Bey gave birth to son Sir Carter and daughter Rumi. While the babies obviously won't be featured in the new book (on account of they weren't born yet), fans will be interested to see pictures of the Carter family pre-twins.
One slight catch; they're going to have to shell out a whole lot of coins to see the pictures. How To Make Lemonade is available for pre-order at beyonce.com for $299, and will begin shipping on Aug. 18. There are limited quantities available, so it's probably not a good idea to hold out for a big sale.
After all, everything the Carter family touches these days seems to turn to cause social media mania. You don't want to be behind the times now, do you?