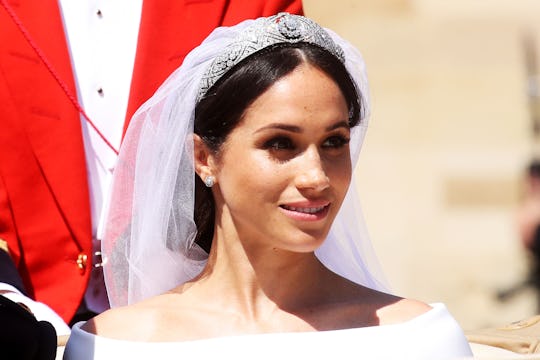 Chris Jackson/Getty Images Entertainment/Getty Images
Wait Until You Find Out How Much Meghan Markle's Royal Wedding Tiara Was
Meghan Markle's first appearance at the royal wedding was seriously breathtaking. People first got a glimpse of Markle as she sat in a burgundy Rolls Royce, a loaner from the Queen of the United Kingdom, on the way to the wedding with her mother. While much of Markle's appearance was kept a mystery until she actually stepped out of the car, watchers couldn't help but notice the gorgeous tiara sitting on top of her head. Obviously rich with history and on loan from the queen, many had to be wondering how much Meghan Markle's tiara was.
Although Markle's appearance at the royal wedding was filled with question until Markle actually stepped out of the car, no one could have predicted what she looked like, who she was wearing, and how she would approach her big day. But as she walked down the aisle, a clearer picture emerged of what she was wearing — and people got a full glimpse of that gorgeous tiara studded in diamonds. Markle reportedly wore the Queen Mary Tiara Bandeau on loan from the Queen, according to The Sun reporter, Emily Andrews.
But the cost of that exact tiara isn't exactly super well known, given the privacy of the royal family. But since it is covered in diamonds and sparkles for miles it's likely that it costs so much money. Like, a lot of money.
Since most of the Queen's crown jewels cost hundreds of thousands of dollars, according to the Daily Mail, it is just as likely that the tiara that Markle wore on her wedding day falls under that umbrella.
Of course, it will take some time for all of the details from the wedding day to emerge. But here is what people do know about Markle's tiara thus far. The diamond bandeau tiara was created in England, according to CNN correspondent Kristen Holmes, and dates back to 1932, making the piece of jewelry over 80 years old. The tiara is a rare piece, according to Vanity Fair, belonging to Queen Mary Princess of Teck, also known as the Queen's grandmother, according to TIME. This tiara is special, according to TIME, since it is often seen with a blue sapphire at the center of it. On her wedding day, Markle opted to keep a diamond in the middle of it, and it was a great choice. The tiara was absolutely stunning.
By now, everyone is pretty familiar with the rhyme "something old, something new, something borrowed, something blue." This rhyme is meant to provide brides with four tokens to provide them luck on their wedding day and in their marriage, according to The Knot. And since Markle's tiara was on loan from the Queen, her "something borrowed" took center stage. There could have been a lot worse and less flashy things for Markle to have borrowed from the Queen. This tiara takes the cake.
There were no doubts that the Queen would let Markle borrow a tiara from her collection — but people were wondering what tiara she would let her borrow, according to Business Insider. It seems as if no one predicted that Markle would wear Queen Mary's bandeau tiara, according to Harper's Bazaar — especially since the tiara had not been seen since 1965, according to Express, which is when the Queen's sister, Princess Margaret wore it. This makes it a great selection for the very unpredictable and unconventional bride like Markle herself.
Surely, over the next few days, people will get a clearer view of how much the tiara cost. But since Markle wore it on her wedding day, the memories made and created by Markle wearing the tiara are priceless.