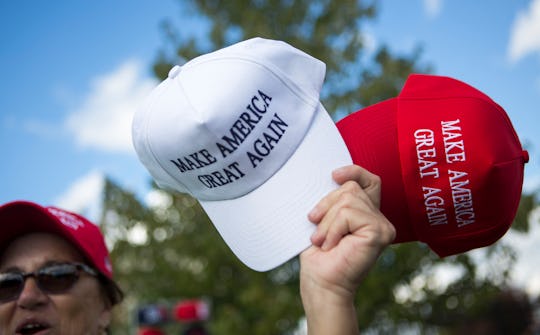 Jessica Kourkounis/Getty Images News/Getty Images
How Much Is Trump's Official Presidential Hat? It Might Set You Back A Bit
When he was the Republican candidate, Trump supporters could show their allegiance for the GOP nominee by donning a "Make America Great Again" baseball cap. Now, those on Team Trump can purchase another piece of politcal memorabilia from this election: an "official" presidential hat sold by Donald Trump's campaign, which is the same hat worn "by 45th President-Elect Donald J. Trump, himself," the site says. So, just how much is Trump's official presidential hat?
While Trump was campaigning, those "Make America Great Again " hats cost between $25 or $30. Now, the "official" presidential hat will set supporters back $40 and can only be purchased on the president-elect's campaign website.
The hats come in three styles to choose from, including red, white, and a camo pattern, all of which are embroidered with "USA" in large letters in the front. On the left side of the cap is a stitched American flag and the right side features the number 45, representing the nation's incoming 45th president. On the back of hat, "Trump" is written above the plastic snap closure.
The president-elect unveiled the red version of the hat last week on Nov. 27 when he was photographed leaving Mar-a-Lago, his estate in Palm Beach, Florida.
The timing of the hat's original debut also coincided with a day of a Trump Twitter storm, in which he took to the social media site 11 times alleging voter fraud took place in at least three states won by his former rival Hillary Clinton, writing that "millions of people [had] voted illegally."
Just hours before that Twitter rant, Trump also dismissed recount efforts launched by former Green Party candidate Jill Stein, calling it a "scam" to "fill up their coffers."
As Bustle reported, a Trump press email for the new hat states "Our movement's new cap shows our call for unity, country, and patriotism during this critical time in our nation's history." A critical and divided time indeed.
Most recently, many American taxpayers, especially New Yorkers, are not happy about possibly having to fork over nearly $1 million day to protect him and the future first family, an estimate reported by CNN. This is because future first lady Melania Trump and 10-year-old son Barron have reportedly decided to stay put in New York City while the president-elect moves into the White House, an unprecedented living situation that will require security detail in multiple locations, and will ring up a hefty bill. (A representative for Trump did not immediately respond to Romper's request for comment on whether Trump would foot part of the bill or waive rental fees for the family's Secret Service detail.)
Whatever the case, Trump supporters looking for an update to their patriotic headwear now have more options than before, even if it puts a bigger dent in their bank accounts too.