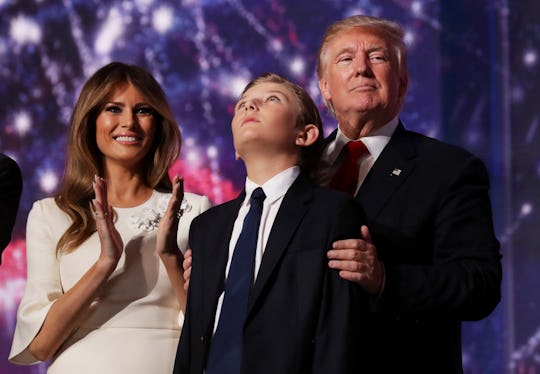 Chip Somodevilla/Getty Images News/Getty Images
Why Would Melania & Barron Trump Living In New York Cost More? It Boils Down To Security
Donald Trump and his family's unprecedented living situation might take a hefty financial toll on taxpayers as future first lady Melania Trump and 10-year-old son Barron have reportedly decided to stay put in New York City while the president-elect moves into the White House. One can argue that the family's reasoning to have Melania and Barron stay in the Big Apple is legitimate — they don't want to uproot their son in the middle of the school year — but it might be hard for some Americans to justify something so costly and unconventional for the future president's family. And that's because it's been reported that Melania and Barron living in New York would cost more than if they moved to 1600 Pennsylvania Ave with Trump.
So, why would this happen and why is the cost an issue for many concerned citizens? It pretty much boils down to ensuring the future first family has constant security detail on them.
CNN estimates that it costs New York City over $1 million a day to protect Trump and his family, who are all under Secret Service protection, and that's because local law enforcement is tasked with assisting the Secret Service in protecting them, no matter where they are. And if the Trump family is regularly divided into multiple locations, that burden on the city's taxpayers could add up pretty quickly.
And regardless of personal qualms or opinions about Trump, come Inauguration Day he will be the President of the United States and that means he and his family are entitled to receive Secret Service protection wherever they are.
"The number one imperative here is safety and security. We owe that to the president elect, his family and his team," New York Mayor Bill de Blasio said at a press conference, according to CNN, adding that the city will need help with these costs, particularly with police overtime. "This is a very substantial undertaking. It will take substantial resources."
Travel is another factor that could contribute to the cost, depending on how often they plan on traveling back and forth from New York to Washington, D.C. According to The New York Post, there are currently "no plans in place" for a move out date, but a source said that the president-elect's 46-year-old wife will travel to the White House as needed.
"Melania is very supportive of her husband and is fully on board of doing everything that's needed as first lady," the source told The New York Post.
Since this news was reported, people have had a lot of to say about Melania and Barron's living arrangement while thousands of New Yorkers have signed a petition that refuses to foot the costly bill with tax dollars.
"The New York taxpayers refuse to pay over $1 million a day so she can stay," the petition says, which will be sent to New York Gov. Andrew Cuomo and Mayor De Blasio once it reaches 150,000 signatures. It continues,
If this decision has been made, between the two of them they should be the ones to pay for it. Not New York taxpayer dollars that could be used on roads, schools, transit, sanitation, new jobs and other expenses that the city has.
The amount of money that is required to keep Melania and Barron in New York is a hard pill to swallow for many Americans, and now thousands are taking a stand against itffirs. Certainly this unconventional living situation would easier to accept if Trump's fortune would foot most of the bill, but it's not clear yet where exactly the funds will come from. What is clear, however, is that the future first family's plans will cost someone (or millions of taxpayers) a pretty penny.