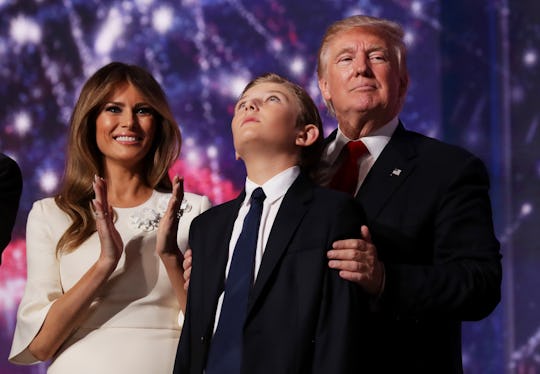 Chip Somodevilla/Getty Images News/Getty Images
How Much Would It Cost For Melania & Barron Trump To Travel Back & Forth From D.C.?
After it was reported that President-elect Donald Trump's family would not be moving into the White House with him come Inauguration Day — future first lady Melania and 10-year-old Barron will instead stay put in New York City — people have had a lot of to say about the Trump family's unprecedented living situation. One of the most concerning and expensive factors is the money that will have to be spent to bring the first family back and forth from Washington, D.C. But how much would the travel costs be for Melania and Barron to travel back and forth occasionally?
That exact figure is hard to predict because it's not known yet how often they will need or want to go to 1600 Pennsylvania Ave, but we can expect that it's not going to be cheap. Trump hasn't even taken office yet and it's already costing taxpayers a pretty penny. According to CNN Money, it costs New York City more than $1 million a day to protect Trump and his family, who are all under Secret Service protection. And no matter what city the first family is in or is traveling to, local law enforcement is tasked with assisting the Secret Service in protecting them.
And those costs aren't expected to noticeably decrease when Trump moves into the White House— he has even stated that he plans to be in New York City regularly, especially while while Melania and Barron are there. Their stay in the Big Apple may be short and could theoretically only last until the Barron's school year finishes, but there are currently "no plans in place" for a move out date, according to The New York Post.
The drive from New York City to Washington, D.C. is roughly four hours, so driving and flying Melania and Barron back and forth from the two cities are both feasible options (although it seems more likely they'll fly). It's also likely that Trump's family would also be able to enjoy many presidential perks, including the president's Cadillac limousine and possibly Air Force One.
Fox News reported that each presidential state car that will debut in 2017 will cost between $1 million and $1.5 million to manufacture. So if Melania and Barron opt to drive, they could possibly be driven in an armored vehicle with a surrounding motorcade, fully employed with Secret Service. And this could run a steep bill considering the costs to cover drivers, security detail, and fuel for multiple cars.
But if they opt to fly via Air Force One, the price could jump drastically. According to CNN, trips on the president's plane cost about $200,000 an hour, which is divided between the taxpayer dollars and funds from the president's political organization. With a flight just over an hour, each return trip can add up pretty quickly.
They could also make the trip in Trump's $100 million private jet, but the trip cost is tricky to predict. Needless to say, Trump's family has a bounty of travel options.
While the exact breakdown of how much it will cost for Melania and Barron to venture back and forth between New York and Washington, D.C. isn't precisely known yet, it's also not clear yet if the extra burden will fall solely on taxpayers or whether Trump's fortune will foot most of the bill. It is clear, however, that it'll be one incredibly expensive commute, no matter what.