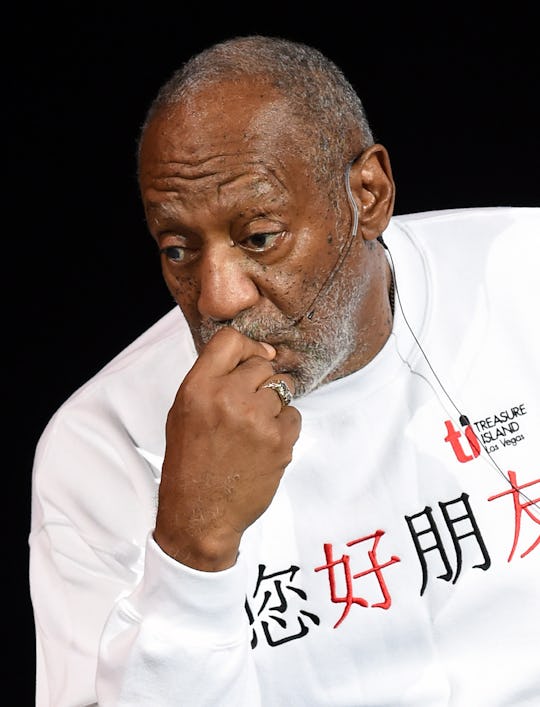 How Much Jail Time Will Bill Cosby Get If He's Convicted Of Assaulting Andrea Constand?
At the end of a year in which more and more accusers came forward, an arrest warrant has been issued for Bill Cosby in the alleged sexual assault of Andrea Constand in 2004, People reported. While there is no way to know whether Cosby will be convicted, it's reasonable to wonder how much jail time Cosby will serve if he is found guilty. Incoming Montgomery County District Attorney Kevin Steele Cosby charged Cosby with three aggravated indecent assault offenses, a second-degree felony under Pennsylvania law (not a first-degree felony, as Steele first stated). Cosby has claimed that his sexual interaction with Constand was consensual. (Romper reached out to Cosby's attorney, Christopher Tayback, for comment Wednesday morning but has not yet heard back.)
Given that over 50 women have have accused Cosby of drugging or sexually assaulting them, or both, according to Vanity Fair, you might think that Cosby could be eligible to serve multiple consecutive sentences. That's not the case. Cosby, now 78, is being arrested and charged only for the alleged assault of Costand at his Pennsylvania home in 2004. If convicted, he will only be sentenced to jail time for that crime. Under Pennsylvania law, if convicted of a second-degree felony, Cosby could serve up to 10 years in prison. Most of the alleged assaults women have accused Cosby of committing occurred long enough ago that the statute of limitations prevents them from pressing charges. The 12 year statute of limitations on the alleged Constand assault runs out in January, according to People.
Constand, now 42 and a massage therapist in Ontario, met Cosby in 2002 when she was working as the manager of the women's basketball team at Temple University, Cosby's alma mater. Constand claims that Cosby assaulted her at his Elkins Park, Pennsylvania home in January 2004. Constand alleges that Cosby drugged her, led her to a couch, and assaulted her. According to NBC News, Steele did not name Constand as the alleged victim in his announcement, but her attorney, Dolores Troiani, told People, "We hope justice will be done. We will cooperate fully."
Correction: This post originally stated that Cosby was charged with a first-degree felony, as prosecutor Kevin Steele first stated. Documents on the Montgomery Country District Attorney's Office website as well as Pennsylvania law confirm that aggravated indecent assault is a second-degree felony unless it involves a minor.
Image: Ethan Miller/Getty Images Entertainment