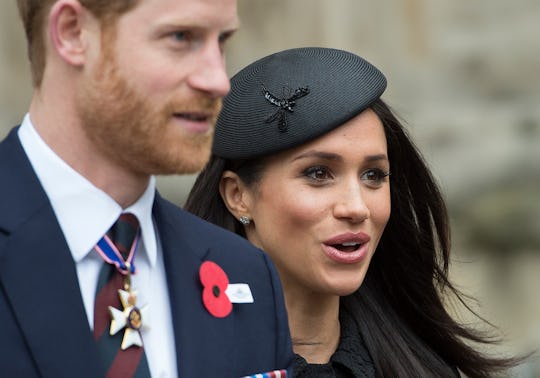 WPA Pool/Getty Images Entertainment/Getty Images
Here's How Much Meghan Markle's Wedding Dress Will Cost, & It's Not Cheap
Do you remember how much you spent on your wedding dress? I know I spent more than I should have (and probably fudged the numbers when telling people, which could explain why I can't remember the real cost), and I know most of my friends did too. As most girls know from watching all of those wedding dress shopping reality series, the wedding is pretty much all about the dress. No wonder people go a little hog wild on the cost. With the royal wedding fast approaching, here's how much Meghan Markle's wedding dress will cost, and I promise you're going to feel so much better about going slightly over budget with your own.
Now before we get into the nitty gritty details, I should point out that these costs won't be 100 percent confirmed until after the big reveal at Markle's wedding to Prince Harry on May 19. But here's what we do know; it looks like Markle's wedding dress will be a custom couture design by Ralph & Russo in London. And as you know, as soon as you hear those words "custom couture" you know it's going to be a wee bit pricey. Although it's difficult to imagine anything other than a custom couture wedding gown for a royal wedding.
How much is this Ralph & Russo dress expected to run the American actress-turned-princess? According to Harper's Bazaar, around $135,000.
Now before you go gasping in shock, here's a little reality check for you; Kate Middleton's custom couture dress designed by Sarah Burton for Alexander McQueen cost considerably more than that. The Duchess of Cambridge' iconic ivory satin corseted dress with a lace overlay reportedly cost $434,000. So basically, if Meghan Markle's wedding dress does cost somewhere in the neighborhood of $135,000, it's a real steal by comparison.
While the cost of Markle's wedding dress might seem incredibly steep, let's get real; the royal wedding is a major deal. As E! royal expert Melanie Bronley told Harper's Bazaar:
It's going to be featured in the history books so needs to stand the test of time.
And let's not forget that, unlike the American weddings Markle might be more accustomed to, this British royal wedding will be full of super impressive fancy hats and also the Queen of England. Her dress really needs to hold up with that sort of backdrop.
So here's where Meghan Markle's pricey wedding dress could hit a bit of a snag; while no one expects her dress to be cheap, in the case of Kate Middleton it was her parents, party supply business owners Michael and Carole Middleton, who picked up the tab for her wedding dress. Meghan Markle's dress and the entire wedding, for that matter, will be paid for by the royal family. Which means that, technically, the taxpayers' money is paying for her dress as the British monarchy is funded by the treasury and taxpayers through the Sovereign Grant. To avoid any sort of negativity around the wedding, royal expert Bromley told Harper's Bazaar she believes Markle might foot some of the bill for her own dress:
It wouldn't surprise me if Meghan decides to foot some of the costs herself so she can have the dress of her dreams.
I am personally super excited to see what Meghan Markle wears on her wedding day. As a royal bride, she's already carving her own path in ways that feel both respectful to tradition but in keeping with her own taste. Small things like changing the traditional cake flavor from fruitcake (yuck) to lemon elderflower cake, which sounds delicious. She's also expected to add her favorite flowers, peonies, to the traditional white bridal bouquet.
So I'm thinking her wedding dress is going to be classy, unique... and something that gets emulated for years to come.