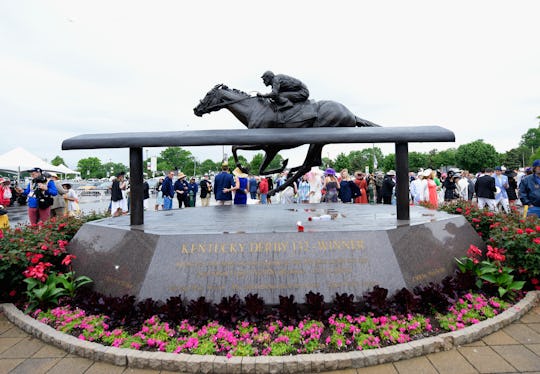 Gustavo Caballero/Getty Images Entertainment/Getty Images
The Kentucky Derby Winner Will Walk Away With A Nice Purse
It is one of my fondest dreams to attend the Kentucky Derby. Since I've never been, I imagine it as such; mint juleps and wide brimmed hats, little white gloves and bourbon pecan pie and handsome men dressed in dapper suits. Also, I'm hoping there will be some sort of under dog, a horse and a plucky rider with a dream, who take the pot and inspire Disney's next horse-based movie. What this spirited girl and her horse do with the prize money as winners of the Kentucky Derby is anyone's guess, but I think they'll buy a small ranch in Montana. If my fantasy about the Derby is wrong, don't tell me please. Let me live in blissful ignorance.
According to Sporting News, the purse for the 2017 Kentucky Derby is $2 million. The winner takes home the lion's share of $1.24 million, which isn't too shabby for a race that lasts a total of two minutes. But those two minutes have long been hyped as the "most exciting two minutes in sports," so credit where credit is due. This year marks the 143rd Kentucky Derby, which is being held at Churchill Downs in Louisville, Kentucky. The race has seen some serious horse flesh cross the finish line throughout the years, from Secretariat to last year's big winner, American Pharoah.
According to the Kentucky Derby website (which in no way shattered my own Kentucky Derby fantasy), the race consists of 20 horses competing for the big prize. This is considerably larger than most horse races which usually have only eight horses. The horses have to travel the Road to the Kentucky Derby, 35 races that culminate in the final race on the first Saturday of May each year. Points are awarded for each race, and the final 20 horses earned those points by being in the top four of each race.
This year those top 20 horses (and their odds just in case you were planning on placing bets) are:
Lookin at Lee 29-1 (20-1)
Thunder Snow 16-1 (20-1)
Fast and Accurate 37-1 (50-1)
Untrapped 59-1 (30-1)
Always Dreaming 4-1 (5-1)
State of Honor 52-1 (30-1)
Girvin 21-1 (22-1)
Hence 14-1 (14-1)
Irap 40-1 (36-1)
Gunnevera 9-1 (15-1)
Battle of Midway 37-1 (30-1)
Soneteer 35-1 (50-1)
J Boys Echo 45-1 (20-1)
Classic Empire 8-1 (4-1)
McCraken 7-1 (5-1)
Tapwrit 25-1 (20-1)
Irish War Cry 9-2 (6-1)
Gormley 21-1 (15-1)
Practical Joke 29-1 (20-1)
Patch 14-1 (30-1)
Whichever horse happens to win this year, the Garland of Roses will be waiting for them at the end of the race. That's right, a horse will run for two minutes and end up with "a garland of more than 400 red roses is sewn into a green satin backing with the seal of the Commonwealth on one end and the Twin Spires and number of the race's current renewal on the other."
And this human being right here buys her flowers for herself at the grocery store when they're 50 percent off.
Happy Kentucky Derby, all!