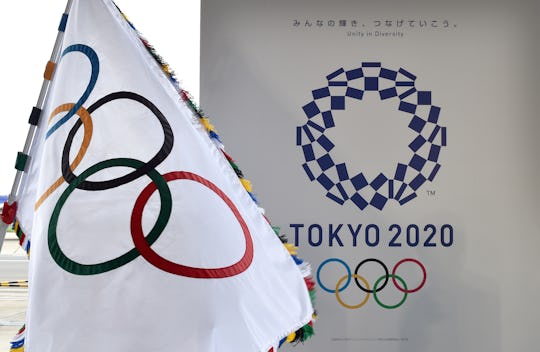 KAZUHIRO NOGI/AFP/Getty Images
How Much Would It Cost To Go To The Tokyo Olympics? It's Time To Start Saving For 2020
A week after the close of the Rio Olympics, the Olympic flag has already arrived at its new host city: Tokyo. After the world spent 16 days going nuts over its athletic champions, national Olympics withdrawal symptoms are high, as is anticipation about amazing feats we'll witness throughout Tokyo 2020. The competitions oftentimes played out like soap operas for television viewers in 2016 thanks to NBC's character-driven coverage, but what what would it be like to actually be there instead? How much would it cost to go to the Tokyo Olympics, experiencing both the city and the intensity of the events?
Traveling to the Olympics is, of course, not your average vacation. For most Americans, neither is visiting Japan, under any circumstances. Merging the two in August 2020 will take lots of planning and (probably) lots of careful saving too, but for adventurers and Olympics aficionados, will be well-worth it.
Although tickets to events aren't yet available and likely won't be until 2019, those who do score them will pay an average price of about $60, with entry to some events costing as low as $44, according to the Japanese newspaper Nikkei Shimbun, as reported by TrulyTokyo.com. And with baseball, climbing, karate, skateboarding, and surfing joining the roster of Olympic sports for the first time ever in 2020, according to The Telegraph, some attendees will witness some truly unprecedented fights for gold.
But before making it to the Opening Ceremony, if that's how you'd opt to kick off your own personal Olympic experience (projected admission between $220 and $1,330), just getting to Tokyo may prove a challenging Olympic event in itself. At least for aspiring spectators' bank accounts, that is: Right now, Kayak.com is offering flights from New York City to Tokyo that cost from between more than $500 to upwards of $1,000 — but it's impossible to know right now how those prices could fluctuate, or even rise dramatically, for people hoping to travel ahead of the 2020 Games.
Of course, competition for flights and accommodations can jack up prices in a host city significantly. TODAY reported that interest in booking a flight to Rio de Janeiro increased 1,000 percent between Aug. 5 and 21 this year, making it tough for travelers to suss out the deals, if they even existed.
Hotels may not be cheap, either. Olympics generally offer ticket and hotel packages. They offer some convenience and streamlining in booking but they'll cost you: according to TheStreet.com, $2,500 bought the cheapest three-day, two-night package for artistic gymnastics and beach volleyball in Rio. And not even including airfare and meals, a six-day, five-night package that promised hotel, admission all track and field events, and a ticket to the closing ceremony cost more than $9,600.
According to The Independent, the fact that the airlines and hotels set their prices incredibly high during each Games, no matter the host city, does not mean that travelers actually have to pay that much. The outlet identified a pattern in which the high prices were actually aimed at people who erroneously believe they have to pay them because of short support, when, in fact, waiting until closer to the event to book all but ensures that they will pay prices either equal to or even less than they would when the Olympics haven't come to town.
In fact, right before the Rio Games, The Independent reported, some airlines were actually making more tickets in cheaper booking classes available in an attempt to fill seats. That's a pretty good indicator that although there's definitely no harm in getting psyched over planning a trip to Tokyo, it's probably a good idea to hold off on the booking process, especially because it's not yet possible to snag event tickets.