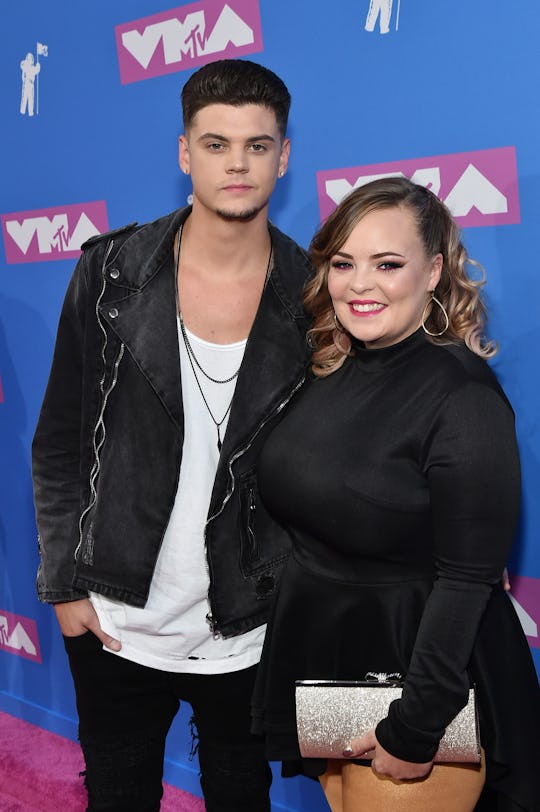 Mike Coppola/Getty Images Entertainment/Getty Images
How Old Are 'Teen Mom OG' Stars Catelynn Lowell & Tyler Baltierra Today?
Longtime fans of 16 & Pregnant and Teen Mom probably won't ever forget the moment Tyler and Catelynn Baltierra placed their biological daughter, Carly, for adoption. The scene was highly emotional, especially since the two were just teenagers at the time. But a lot has changed since 2009, and some viewers want to know how old Catelynn and Tyler are today.
Catelynn and Tyler's lives have changed drastically since they first appeared on 16 & Pregnant as young teens. Case in point: At the time of their first stint with MTV, both were dealing with unstable home lives. Catelynn was stuck living with her emotionally abusive mom, who happened to be married to Tyler's dad at the time. Yep, the couple was once step-siblings. Cringe.
As for Tyler? He was coping with his father's drug addiction issues, that often landed the grandfather in prison.
What made things even more difficult for the couple during this time? They both felt a lot of guilt and self-doubt over Carly's adoption, arguably the hardest decision of their lives to date. And the pair's parents both gave them a difficult time about their choice, even though their sole motivation was to give Carly a better life.
Of course, a lot has changed since viewers first met the Michigan natives almost 10 years ago. Catelynn and Tyler, for example, both turned 26 in 2018. Wild, right?
In between placing Carly for adoption at 17 and turning 26, the couple has experienced many life events. Catelynn and Tyler got married in August 2015, just seven months after welcoming their daughter, Nova, in January 2015.
Catelynn and Tyler have also put a ton of work into tackling their mental health issues, efforts that were captured for Teen Mom OG. Catelynn entered an Arizona-based mental health facility multiple times following their wedding, while Tyler started attending therapy.
Additionally, Tyler has helped his sister, Amber Baltierra, and his dad, Butch Baltierra, recover from their drug addictions.
But the best was yet to come because the couple announced their third pregnancy in September, followed up by a sex reveal announcement in October. As it turns out, the duo is expecting another little girl. Catelynn shared, according to E! News:
I was so shocked that it was a girl because I for sure thought it was a boy! Tyler knew the sex before I did. When we did our gender reveal, I was so shocked I almost cried because I wanted a boy so badly. I'm super excited it's a girl now. Since our miscarriage, I just am thankful to get another chance, and as long as it's healthy, that's all that matters!
The two also plan on further expanding their family in the future, with Catelynn stating, according to MTV: "We definitely want to have a boy, but if God only wants us to have girls, then that's just what it is. It will be a houseful of all girls! Poor Tyler!"
Well, it sounds the pair's next 10 years holds a lot of exciting possibilities. And there's a good chance viewers can't wait to see what happens next in their lives.