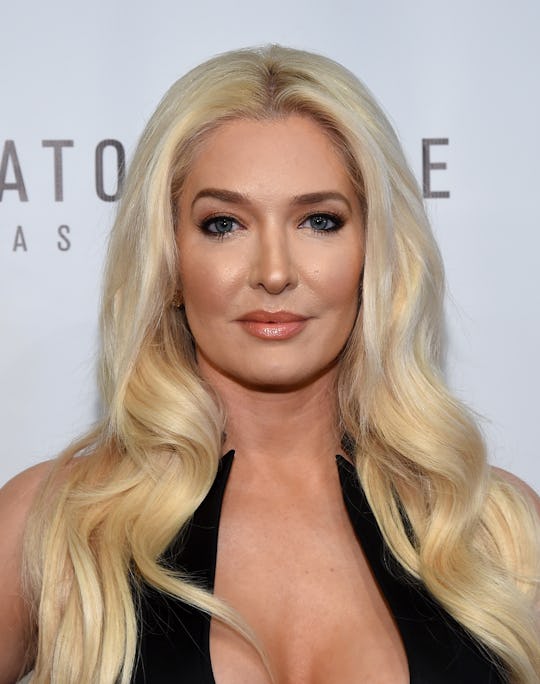 Ethan Miller/Getty Images Entertainment/Getty Images
Erika Girardi's Son Is All Grown Up Now
The Real Housewives of Beverly Hills star Erika Jayne tends to keep her family out of the spotlight. While her husband makes semi-regular appearances on the show, often with priceless paintings and jewel-encrusted panther rings in tow, her son hasn't shown up yet. He seems to prefer a quieter life than his pop sensation mother, though he and Erika remain close. His name is Tommy Zizzo, which Okhereisthesituation.com reports is also the name of his father Thomas Zizzo, who was Erika's first husband. She had her son when she was fairly young. But how old is Erika Girardi's son now?
Erika and Zizzo (the first) met when she was just 18, and soon after that they were married with their son on the way. These days Tommy is 23, an adult making is own way in the world — and his path is decidedly different from Erika's, though she is very proud of him. Tommy works in law enforcement, something Erika has referred to as "nerve-wracking" even though she knows it's the right choice for him. "It's a dangerous profession," she told Bravo's The Daily Dish. "I've known my son was going to be in law enforcement from the time he could walk and talk. That's all he's ever wanted and that's kind of your role as a parent is to honor who your children really are."
Erika separated from her first husband while Tommy was still a child, and she's spoken about how difficult it can be to be a single mother. In the same interview with The Daily Dish, she said, "Single moms have it tough. It's hard. It's exhaustive, but at the same time it's very rewarding. You know especially now that he's older and he's doing so well. I think that really makes the struggle worth it."
Erika also knows that she can trust Tommy to make the right decisions about his life, especially when it comes to dating. "I don't have any requirements for my son, who he dates, because he's an adult," she said. "So whoever he chooses to date, I'm sure they're lovely. I'm not going to run his life. He has to run his own, but I think he's doing a great job."
Even though the general public doesn't get to see it, it seems like Erika and her son have a good relationship. She understands what he wants and is willing to support him as he tries to accomplish it, but gives him his space at the same time. She might be private about her family, but it also seems like they're a fairly normal family (despite the pop persona and gigantic mansion); there's no juicy gossip to tell.