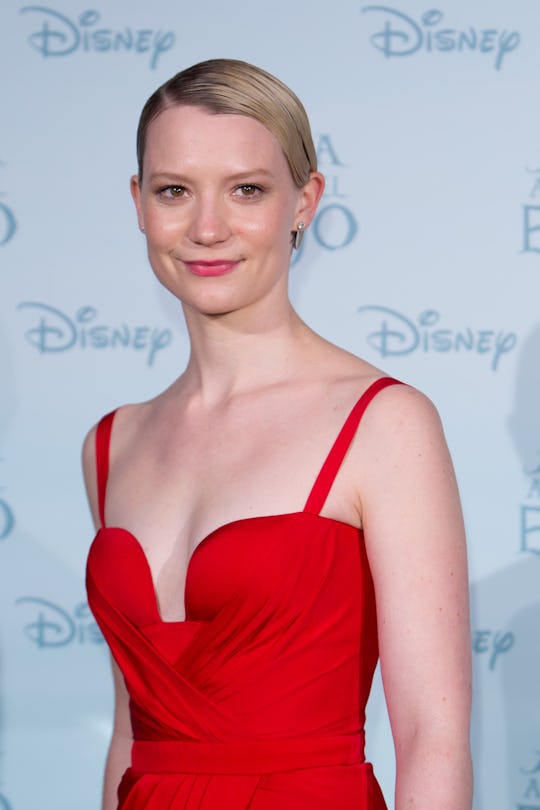 Pablo Cuadra/Getty Images Entertainment/Getty Images
How Old Is Mia Wasikowska? The 'Alice' Star Is One Impressive Young Woman
After Alice Through The Looking Glass comes out this weekend, its leading lady will very likely be the next big Disney star of the summer (especially since she's proven she can do it once before). But even though she plays a young tween, it's hard to tell just how old Mia Wasikowska really is. If it matters, she's 26 years old. But the Australian actress is more about her age and actually, it seems like she doesn't really want anyone to know anything about her at all, in the best way possible.
While Wasikowska definitely has an impressive résumé, she hasn't actually starred in many feature films. Instead, she's been on the smaller Hollywood circuit for some time, thrilling viewers in indie roles. In addition to her role as Alice in Alice in Wonderland, she was also in The Kids Are Alright and has starred in horror films like Crimson Peak, as well as some television projects.
That doesn't mean she hasn't earned a name for herself. Despite lukewarm critic reviews (of the film, rather than the cast itself), Wasikowska is positively pushing her way past the Hollywood elite. Just recently, she attended the Met Gala in New York City in Prada looking almost bored. Bored. (Maybe it was just that cool-handed Disney star sort of "just-don't-give-a-damn-what-people-think attitude). She's also been reportedly dating, and not dating, actor Jesse Eisenberg since 2013.
When it comes to Wasikowska everything seems to be kept under wraps, which means she might just be the savviest new celeb out there. She's kind of a mystery in the best way.
Wasikowska doesn't seemed concerned about her celebrity. She has no Twitter or Instagram accounts to be stalked. She literally looks like she does not care at all about her Disney star status. Maybe it's because, despite her young age, she understands that it's all fleeting.
In an interview with New Zealand's Stuff.co.nz, Wasikowska said she didn't expect to return to the big screen in another Burton film... well, ever. "I had written it off," she told the news outlet this week. "I didn't think it was going to happen because I thought, if it did, it would be maybe a year or two after the first one." Still, she said was pleasantly surprised by the script, which turned out to be an impressive one. "... It was a surprise to read it and see her journey," she said, adding,
What I love about her, as in the books, is that she's really headstrong and defiant and nothing seems to faze her. There is not this expectation that she should be scared of these things. And, in this one, I like how they satirise the times, things like female hysteria. That was all very serious 100 years ago.
According to Marie Claire, Wasikowska relates to her character too. She said recently that Alice "comes from a very empowered place, with a strong sense of who she is and is very self-assured." When it comes to acting with the likes of Johnny Depp and Helena Bonham Carter and still managing to keep the press at bay, and not going "mad among people," it looks like Wasikowska is channeling Alice in every way.
Unfortunately for the young star, it looks like with the release of Alice Through The Looking Glass, she might just become everyone's favorite celeb — and that means more time in the spotlight than she probably bargained for. Sorry, Mia.