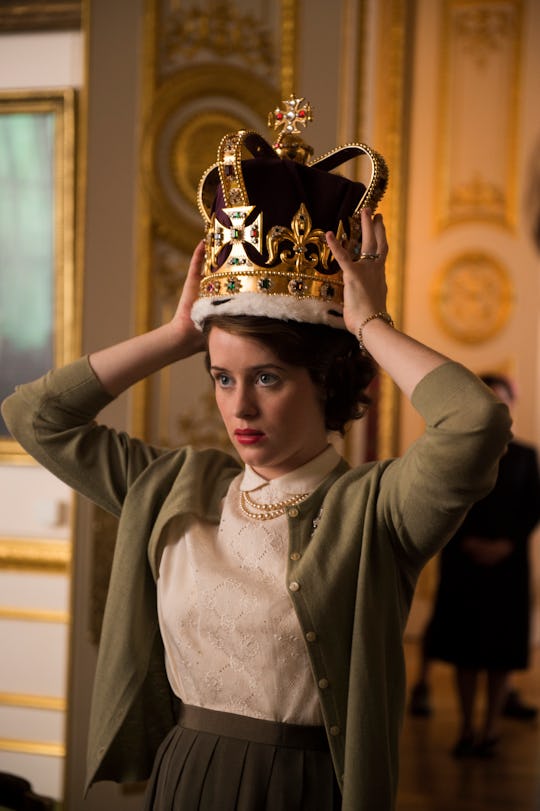 Netflix
How Old Is Queen Elizabeth II? 'The Crown' Shows Her Early Years As A Monarch
On Nov. 4 the highly anticipated historical drama, The Crown, premiered on Netflix and people cannot stop talking about it. Kicking off just before Elizabeth's wedding to Prince Philip in 1947 and progressing all the way through 1955, the show's first season focused mainly on the start of the modern monarchy and how the country's new ruler adjusted to life on the throne. But considering how she was only 25 years old when she was first named Queen, many are wondering how old is the real Queen Elizabeth II? Though it's never polite to ask a woman her age, Britain's real-life Queen is currently 90 years old and still in very good health.
Queen Elizabeth II ascended to the throne in 1952, making her the longest-reigning British monarch in history, which is interesting since Elizabeth was never expected to become queen in the first place. Her uncle Edward VIII, Prince of Wales, was first in line for the throne after her grandfather, making Elizabeth third in line, after her father. However, within the same year that her grandfather died, her uncle made the decision to abdicate the throne, due to his proposed marriage to a divorced socialite, causing a constitutional crisis. Thus, Elizabeth's father became king and she became second in line to power.
Then, shortly after the end of World War II, her father died in Feb. 1952, leading to Elizabeth's immediate accession to the throne. She has been queen ever since and will continue to be until she passes away and her son, Prince Charles, takes up the mantle.
In The Crown, Claire Foy (Wreckers) plays the 25-year-old queen and Matt Smith (Doctor Who) takes on the role of her new husband, Prince Philip Mountbatten, Duke of Edinburgh. The cast also includes John Lithgow (Interstellar), who plays the role of British Prime Minister Winston Churchill and Jared Harris (The Expanse) who plays Elizabeth's father, King George VI. The 10-episode season is the streaming service's most expensive TV series to date, but based on critics response every cent was well worth it. Described as a costume drama filled with familial conflict on an extravagant level, The Crown is already a hit in the hearts of many.
You can watch the beginning of Queen Elizabeth II's reign on Netflix on Nov. 4.