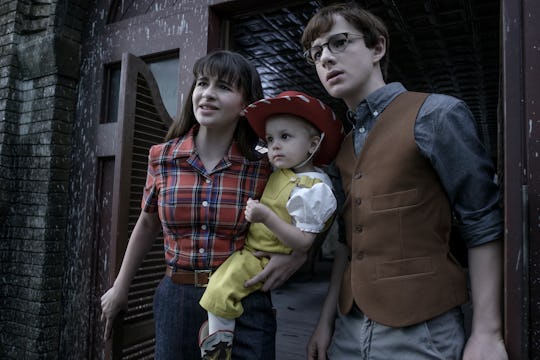 Eike Schroter/Netflix
Sunny Proves To Be Just As Adorable As Ever In 'A Series Of Unfortunate Events' Season 2
A Series of Unfortunate Events is back for its second installment in the three-season Netflix adaptation of the beloved children's books by Lemony Snicket, AKA Daniel Handler. The Netflix version has been praised for casting an actual baby in the role of Sunny Baudelaire, unlike the flopped movie adaptation which aged her up a bit, so fans may be wondering: how old is Sunny in ASOUE Season 2? Little Presley Smith was born in January of 2014, so she was about three years old when Season 2 filmed.
While having a real baby play the youngest Baudelaire sibling definitely does a better job of catching the character's spirit in the books, there is some unfortunate (see what I did there?) CGI going on to play up Sunny's facial expressions. Each Baudelaire has a quirky trait which leaves them uniquely qualified to tackle the series of misfortunes that befall them. For Sunny, it's her unusually sharp and pointy teeth, which have been used for everything from chewing through rope to chewing through logs. Obviously, CGI was used to give Sunny her terrifying grin, but the other manipulated facial expressions proved to be a little creepy, and not in the on-purpose way — especially when a blank expression from Smith fits into Sunny's deadpan baby humor so well, no effects necessary. Perhaps there will be less need for CGI in Season 2 now that Smith is a little older.
In an interview with Buzzfeed News done ahead of A Series of Unfortunate Events' Netflix debut, Malina Weissman (who plays Violet Baudelaire), and Louis Hynes (who plays Klaus) confessed that Smith was the actor most likely to break character on set, which is objectively hilarious. But they were quick to reassure the press that "it was awesome" working with a baby. And they sure do spend a lot of screentime with her — Weissman carried Smith in her arms for the majority of the first season.
Now that Smith is a little more mobile, it'll be interesting to see how her character develops in the adaptation. Sunny remains a baby for the entirety of the 13-book series without aging. Obviously, it's a little trickier to pull that off for a television adaptation that spends over a year in production between seasons releasing. But according to IMDB, Smith is slated to play Sunny for all three planned seasons. There don't seem to be any plans to replace her in order to keep Sunny from noticeably entering into toddlerhood. Then again, this also makes sense given that the actors who play the two older Baudelaire children are in their early-to-mid-teens and will be aging noticeably through the adaptation's three seasons, too. It seems like Netflix is banking on fans suspending their disbelief, and, for the payoff of the three kids really getting to develop their chemistry and emotional bonds, I would imagine it's worth it.
The second season of ASOUE tackles books five through nine, dedicating two episodes apiece to the events of The Austere Academy, The Ersatz Elevator, The Vile Village, The Hostile Hospital, and The Carnivorous Carnival. At the very end of the Season 1 finale, we were introduced to the Quagmire triplets (two of them, anyway), who feature prominently in the next season and for the rest of the books. Along with the tiniest Baudelaire, they offer a rare ray of sunshine in an otherwise dark and dismal series by being true friends to the Baudelaires. You can check out A Series of Unfortunate Events Season 2 when it drops on Netflix Friday, March 30.
Check out Romper's new video series, Romper's Doula Diaries:
Watch full episodes of Romper's Doula Diaries on Facebook Watch.