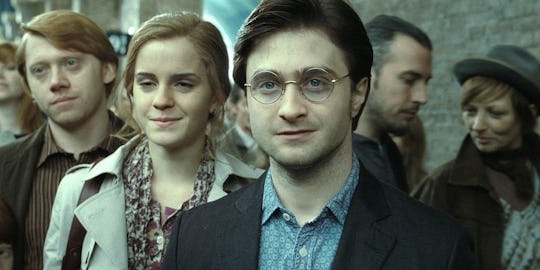 Warner Bros.
How Old Would Harry Potter Be Turning Today? He's Not As Young As You'd Think
The day Potterheads have been waiting for is finally here. At midnight on 12:01 a.m. on July 31, fans of the franchise were given a new book in the form of Harry Potter and The Cursed Child. The script-turned-book picks up where Harry Potter and The Deathly Hallows left off — with Harry and his son Albus Severus waiting at Platform 9 and 3/4 for the Hogwarts Express. But July 31 isn't just the day the world got more Potter — it also happens to be The Chosen One's birthday. This begs the question, how old would Harry Potter be today and what is he up to.
The last question will be answered — along with hundreds of others — in the upcoming unofficial eighth book in the Harry Potter series. According to the play's official website, Harry Potter and The Cursed Child picks up 19 years after the Battle of Hogwarts, where Voldemort was defeated once and for all. Since defeating the Dark Lord, Harry has become, "an overworked employee of the Ministry of Magic, a husband and father of three school-age children." In addition to his daily struggles, the site noted that Harry is having a hard time keeping the past in the past — whatever that means.
So now that you know what Harry has added to his resume, you may be wondering how many candles he would be blowing out on July 31, 2016. For that, you need to do a little arithmetic and read between the lines.
Because the final Harry Potter book, in which Harry was 18 years old, was released in 2007, maybe people assume that he was born in 1989. This logic would make Harry 27 years old as of July 31, 2016. But when you consider that he has a son entering Hogwarts, that math doesn't quite add up.
Thankfully the Queen of the Wizarding World, J.K. Rowling was able to set the record straight in 2014. According Time magazine, the author revealed on her personal blog that Harry would have turned 34 that year. With the help of some simple subtraction, readers are able to conclude that Harry was born in 1980, which would make him 36 years old this year. Crazy, right?
So has Harry aged well? Theres only one way to find out. Download your copy of Harry Potter and The Cursed Child and read on for more magic and wonder than ever before.