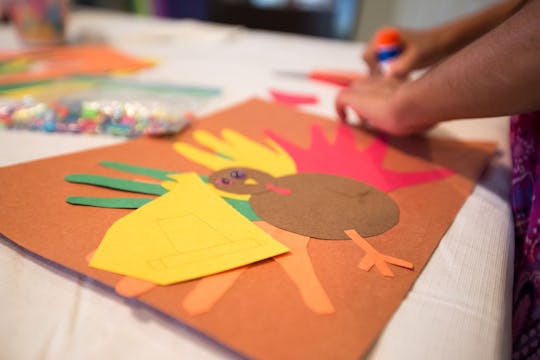 Aarti Kalyani/Shutterstock
How Preschool Teachers Explain Thanksgiving To Their Students
For children who go to preschool, the year is spent being introduced to new concepts, and taking a closer look at familiar ones. At this time of year, one of those subjects is the holidays, which means preschool teachers are explaining Thanksgiving to students in age-appropriate ways and helping them relate the topic to their own lives.
So exactly what does that mean? For one, it's unlikely your 4-year-old will come home reciting facts about the Mayflower or the fabled John Alden-Priscilla Mullins romance. As the Kids R Kids Learning Academy in Florida pointed out, the story of the first Thanksgiving "has become slightly fictionalized in American culture." It's also difficult for children to understand 17th-century life at an age when last week seems like a lifetime ago.
Preschool educators are more likely to explain that many cultures around the world observe holidays celebrating the harvest, and that the American Thanksgiving is one of them. "In pre-K, I don't specifically teach the true story of the origin of Thanksgiving. Instead, I focus on thankfulness," explains teacher Elizabeth Kaftan, who teaches in a New York City preschool. "I begin by talking about feelings — why do you feel happy? Sad? Angry? Then from there, I try to help the children understand that they have family and friends who help and take care of them and give them what they need to be happy. These are things to be thankful for."
Preschools might also opt to focus on the harvest theme, explaining that fall is a time when certain foods become plentiful, and how Thanksgiving meals often include autumn vegetables such as corn, sweet potatoes, pumpkin, and beans. The classroom might even have some of the vegetables on display in the science center for children to examine. The sensory table might have cornmeal or dried corn kernels for little hands to explore.
To incorporate literacy standards into the Thanksgiving unit, pre-K teachers might have students explain the things they're thankful for (popular answers include "My mommy and daddy" and "My toys") and write down the answers for a class book. A math task might involve making a bar graph of holiday food preferences (apple, pumpkin, and pecan pie) and having the class figure out which dish is the most popular by counting the number of votes for each one.
Because young children learn best through hands-on experiences, many preschools plan some sort of cooking project or class meal right before Thanksgiving. The Teach Preschool website described a classroom holiday feast in which the children helped decorate their own table place settings, cooked rolls and green beans, and created "cornucopias" out of waffle cones, fruit, and popcorn.
Depending on your child's school, you might be lucky enough to join in the class festivities. "We had parents come on a Family Friday for Thanksgiving this year," says New York preschool teacher Lisa Martino. "We sang some simple Thanksgiving songs and finger plays, read a story, and then made a feather hat, with each feather representing something they were thankful for."
To add a more lighthearted flavor to the holiday theme, preschool teachers might read humorous books such as Turkey Trouble or There Was an Old Lady Who Swallowed a Turkey! Several days before the Thanksgiving break, Kaftan has her students bring home a paper template of a turkey, asking families to "disguise" it in a creative way to help it escape its Thanksgiving fate. "I've seen families use cotton balls to turn it into a sheep, or decorate the tailfeathers to look like a peacock," she says. Then the children bring the finished product to school for a lively share-and-compare meeting.
One school tradition that hasn't changed over the generations is the Thanksgiving craft. Handprint turkeys are still a popular class art project, as are gobblers made from paper plates or coffee filters. As opposed to classwork that gets displayed on the walls, these masterpieces go straight into the students' backpacks for parents to admire and showcase on their holiday table.
Whatever approach to Thanksgiving your child's preschool teacher takes — the history, the culture, the concept of gratitude, or just plain turkey-related fun — your child will come away a little wiser about the holiday, and better able to help participate in your own family's traditions.