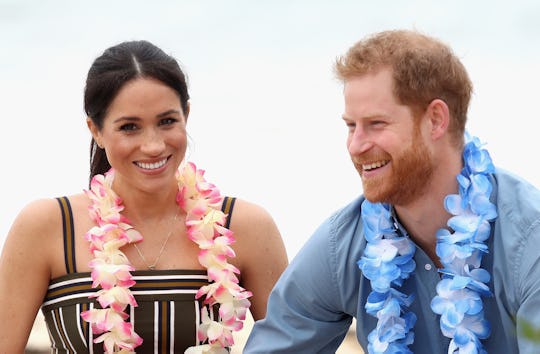 Chris Jackson/Getty Images Entertainment/Getty Images
The Sweet & Simple Way Prince Harry Supported Meghan Markle During Her Pregnancy
If you weren't already in love with Prince Harry before, you may be after this. The Duke and Duchess of Sussex are currently on a 16-day tour through Australia, Tonga, New Zealand, and more. And since Kensington Palace also recently announced Meghan Markle is expecting her first child with Prince Harry, people have been asking questions about the pregnancy and the press has been on bump watch the whole trip. But maybe we should be on the Duke of Sussex watch instead, because how Prince Harry is supporting Meghan Markle during her pregnancy is really the sweetest. In particular, he performed a very sweet, simple gesture to support her that did not go unwatched by royal fans.
Prince Harry and Markle are currently in Fiji, according to Cosmopolitan, and they just attended a black-tie reception hosted by the Fijian prime minister. And when it was time for a toast at the reception, the Duchess of Sussex had to toast with water, since she's pregnant and not drinking. And apparently, Prince Harry decided to do the same thing. As royal correspondent Omid Scobie shared on Twitter, "Meghan and Harry both toasting with water at tonight's reception."
Prince Harry certainly didn't have to toast with water at an official function like that, of course. He's not the pregnant one, after all. But the fact that he did was a really supportive #HusbandGoals move.
And the internet loves him for it.
And it sounds like that sweet gesture on Prince Harry's part is just the tip of the iceberg when it comes to him supporting Markle during her pregnancy on this big trip. He's also been encouraging her to take it easy during their travels, according to "royal sources" who spoke with The Independent, and seems more than happy to have her pace herself even if she has to miss certain planned functions.
In fact, when Prince Harry made an appearance at the Invictus Games in Sydney, Australia on Sunday without Markle, a source told The Independent: "She had a very late night last night. She wants to do everything, but Prince Harry is encouraging her to pace herself."
So it's clear that Prince Harry is very serious about his wife taking care of herself while she's expecting, and supporting her in any way he can even if it means she misses out on some royal duties.
Aside from the water toasting moment, Prince Harry and Markle have had other cute moments during this trip that the public has definitely noticed. At one point on Tuesday, they appeared on the balcony of the Grand Pacific Hotel, where they're staying, just like the Queen did in 1953 with her husband Prince Philip, as People reported.
And just in case your heart hadn't already melted enough, when Prince Harry was assisting a wheelchair athlete at the Invictus Games on Sunday, an onlooker yelled to him that they hope the baby is a girl, and he replied, "So do I!" according to the BBC.
It sounds like Prince Harry is doing everything he can to support his wife while she's pregnant with their first child. They only just got married in May, and Markle has only had so much time to get used to royal life and is already jumping into life as a royal mother as well.
But as long as Prince Harry keeps supporting Markle in small ways, like toasting with water while she can't drink, and big ones, like advocating for her when she needs a break, I have a feeling they'll both continue to handle their new royal and parental roles beautifully.