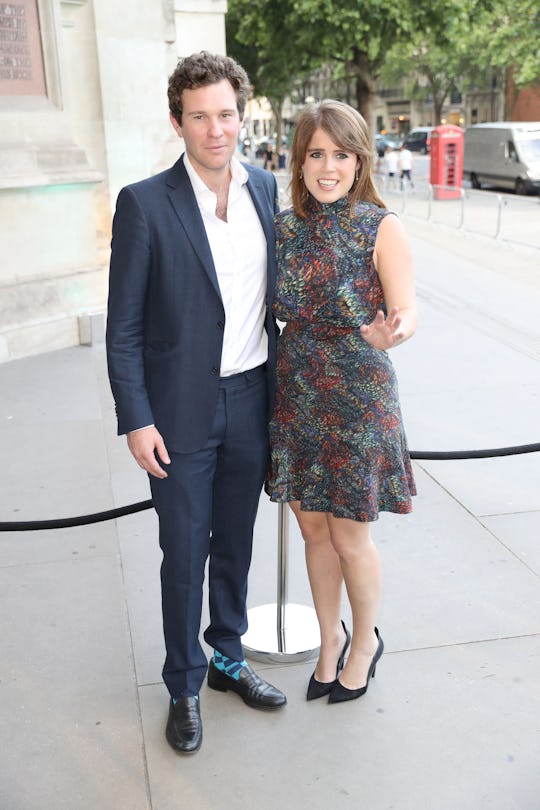 Chris Jackson/Getty Images Entertainment/Getty Images
Princess Eugenie & Jack Brooksbank Describing Each Other In This Video Proves They're Meant To Be
I'm an equal opportunity fan of the royals — I love them all. Especially when one of them gets married and, best of all, televises the whole she-bang. Maybe it all hearkens back to getting up at the crack of dawn to watch Princess Diana marry Prince Charles when I was a little girl. I thought it was like a fairytale back then. These days, however, I'm more realistic. I know there's no such thing as fairytales or happily ever after. Or at least, that's what I thought. Before I listened to Princess Eugenie and Jack Brooksbank describe each other in this video interview the day before they get married. They might make me believe in love. And they best not disappoint me.
The youngest daughter of Prince Andrew and Sarah Ferguson is set to marry her longtime love, wine merchant Jack Brooksbank, in the very same spot her cousin Prince Harry married Meghan Markle just five months ago, according to The Telegraph. That's right, we'll all get the chance to get up obscenely early on Friday morning to watch another royal wedding happen at St. George's Chapel in Windsor Castle.
While the locale might be the same, the couple have rather a different love story. Prince Harry and Meghan Markle were something of a whirlwind romance, marrying less than two years after meeting. But Princess Eugenie and Jack Brooksbank? These two have been in love for seven years.
The couple first met during a ski holiday in Switzerland in 2010, according to E! News; Brooksbank was reportedly already a close friend of Prince Harry at the time, and Princess Eugenie was staying at her parents' vacation home in Verbier.
How did they feel about each other? In an interview with This Morning in preparation for their Oct. 12 wedding, Princess Eugenie admits it was "love at first sight."
Since that first meeting, the couple have had their share of trials to test their relationship. Perhaps most notably when Princess Eugenie moved to New York City to work for an online auction house while Brooksbank stayed in the United Kingdom. At the time Brooksbank told the Daily Mail that they were still "very much together" and the two used Skype to stay in touch. Fortunately, Princess Eugenie moved back to London in 2015, according to the Daily Mail. Because these two are clearly meant for each other.
Just listen to the way they described each other during their interview with This Morning. When asked to use three words to describe his fiancee, Brooksbank immediately replied:
She's this bright shining light.
As for Princess Eugenie, she couldn't quite keep her love for her man to three words (perfect thought Brooksbank's words were). She told This Morning:
Jack's the kind of guy that... you know when you're lost at a party and you can't find anyone to talk to and you start panicking and you need help? He'll walk in and he makes everyone feel so special. And he'll scoop you up and he'll talk to you and he'll make you feel a million dollars. That's you, you're so humble and generous. And just that person you immediately know you've got a friend.
This, to me, is just about the most beautiful description of the sort of person a girl should love I could ever imagine.
I am a full 50 percent more excited for this wedding tomorrow, with 100 percent chance of bawling.