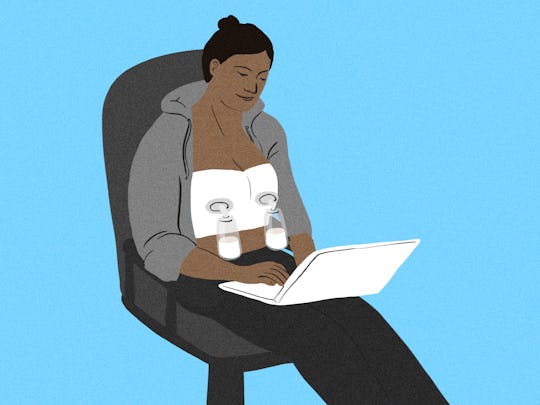 Calire Joines/Romper
How Soon Can You Breastfeed After Pumping? A Schedule Could Save Your Sanity
Life as a mom who breastfeeds and pumps isn't simple. It's full of scheduling, supply monitoring, and milk storing, with lots of snuggles and nursing sessions thrown in between. When you're doing a combination of pumping and nursing, you've got to pay constant attention to make sure you keep up your supply without accidentally increasing it too much, or forgetting a session that might negatively impact your supply. Wondering how soon you can breastfeed after pumping is a common question on many a pumping mama's mind, and like most areas of motherhood, there is no set rule on the subject.
According to the Mayo Clinic, having a set schedule is great for maintaining your supply. Your baby (and your breasts) will value the predictability, and you won't have to worry that you're not pumping or nursing enough to keep up your supply. That said, most experts recommend waiting at least 30 minutes to an hour after pumping to nurse, according to Ameda, one of the leading breast pump brands. This gives your supply time to replenish, and even though your body is continually making milk, nursing or pumping more frequently than that will cause your body to make more milk than you likely need.
According to Healthy Children, breast milk is made in a "supply and demand" manner — meaning that the more you or your baby takes out, the more your body will make — so it's important to not remove too much or too little milk. As long as your baby is eating enough at each feeding and you're still pumping as much as you need to, scheduling extra feedings or pumping sessions probably isn't necessary.
Don't stress yourself too much about striking the perfect balance. Your body will let you know when you might be pumping too much and you can simply cut back.