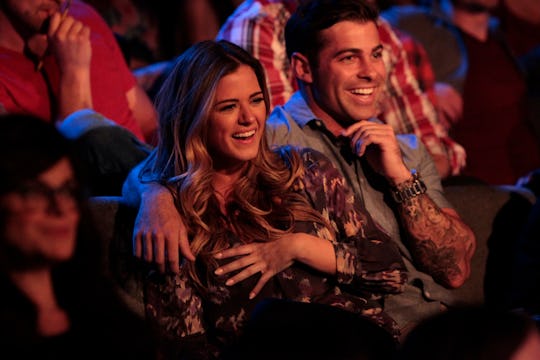 ABC/Rick Rowell
How Tall Is Alex On 'The Bachelorette'? Here's Why It Doesn't Matter
Since day one of Season 12 of The Bachelorette, the house was full of masculinity and muscles. It is pretty much par for the course, and gave us all something nice to look at, aside from the sparkling evening gowns favored by JoJo. But among all of that He-Man nonsense was slandering, tattling, and just plain immaturity among the contestants. And even though Alex from Season 12 of The Bachelorette is plenty guilty of all of the above, let's agree to leave his height out of it. It would be plenty easy to point out his physical flaws and attack him that way, but instead, viewers should focus on choices and comments that Alex has made throughout the show rather than pick on any inches he's lacking when compared to the other contestants on The Bachelorette.
Remember when he and Chad had that insanely awkward river-side picnic with JoJo? When Alex had alone time with JoJo, he took yet another stab at trash talking Chad, instead of getting to know JoJo. Now, Chad may have been the uber villain of Season 12, but it was just more proof that, height aside, Alex can make enemies and come across as the bad guy regardless. Basically, he can hold his own, and the sooner we stop focusing on his height, the quicker we can appreciate everything else about him, good and bad.
He's in the final six though, right? So obviously Alex's height doesn't matter on The Bachelorette, regardless of who the guy is in the inside.
If Alex was shorter than even JoJo on The Bachelorette, then it may be cause for an awkward concern. But the fact is, while he's obviously shorter than his competition on the show, he's no shorter than JoJo herself, and she's really the only person whose height should be of concern to him, right? And even that, not really. Love takes all shapes and sizes. Alex lists his height on the ABC site as 5'7", and JoJo listed her height as 5'4" during Ben Higgins' season, so his height compared to JoJo's shouldn't be that much of a concern.
The fact that right now, there are just six guys left and Alex is one of them proves that his height has made absolutely no difference to JoJo on The Bachelorette. It could be argued that there is still time for him to be cut at a rose ceremony, especially since the new episode on July 11 will have JoJo eliminating two Bachelorette contestants, bringing us to the final four and hometown visits. But if Alex does get sent packing next week, which could totally happen since he's not exactly the nicest guy left, we can easily chalk it up to the personality he has.
Alex's height on The Bachelorette is about as important as JoJo's flawless hair or Chad's cold cut selection. It's a talking point until it just isn't anymore. The Bachelorette is about JoJo finding someone to possibly spend the rest of her life with, not search for some giant to tower over her forever. Or maybe it is, but the point is, Alex's height isn't important. Like, at all. It hasn't hindered his performance in any of the challenges or dates, and he's gotten plenty farther in the show so far than a lot of the other men.
Annoyances aside and bullying aside, Alex from The Bachelorette could continue to go far in the show, or he could fizzle out as quickly as Wells after that awfully awkward first kiss. But either way, it will have nothing to do with his height. So, let's just not.