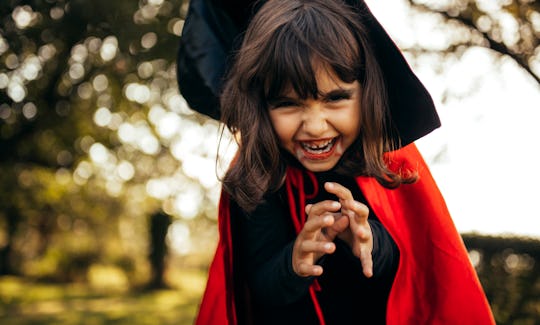 Westend61, Getty Images
Here's How The Halloween Blue Moon Will Affect Your Kids, According To Astrologers
With so many shakeups happening this year due to COVID-19, there's still one stronghold that kids are clinging to this season, and that's Halloween. It's the one time this year where kids might feel some semblance of normalcy as they go door-to-door on the hunt for hauntingly good treats (all while voluntarily wearing masks, too). But this October 31 will also see the rise of a full moon. So how will the Halloween blue moon affect your kid based on their zodiac sign?
The appearance of not one but two moons in any calendar month is almost an astronomical anomaly, occurring about once every two to three years, Earthsky.org reported. Couple this with cooped-up kids and the whole Halloween vibe, and well, prepare for epic-level lunacy. "Halloween can evoke strong emotions in children," Jaya Jaya Myra, an astrologer and wellness expert, tells Romper in an email. "Add onto this a blue full moon, and you may be in for a wild ride!"
Stephanie Gailing, an astrologer and author of the kids' astrology book, Stellar Kids, agrees. "There's a lot of an abundance of energy that circulates this Halloween," she says in an email. "Yet that's not just the because of the Blue Moon; it's also because this lunation happens to connect with Uranus, the planet that brings surprises, shake-ups, and new awareness."
In other words, your little ghoul might be even more giddy than normal.