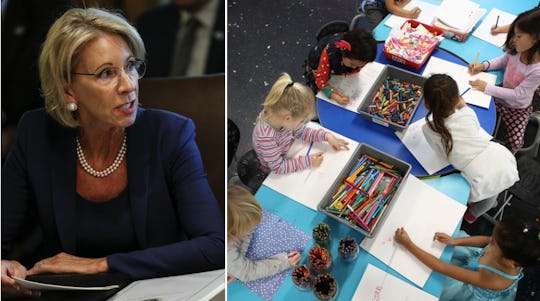 Pool/Getty Images News/Getty Images/ Phil Walter/Getty Images News/Getty Images
Here's How The Midterm Election Results Could Affect Your Kid's Education
Even within an administration where controversy and backlash seems to be a given, President Donald Trump's 2017 nomination of Betsy DeVos for Education Secretary was particularly contentious. Critics called out DeVos for her lack of experience regarding public education, and her responses during her confirmation hearing left many arguing she was unfit for the position. Ultimately, Vice President Mike Pence cast a tie-breaking vote and tipped the scales in her favor, but now parents are naturally wondering how the midterm election results will affect their kids' education.
Though the full answer may not yet be immediately clear, Education Week noted Wednesday following the election that we can at least expect that DeVos will face greater oversight by Democrats now that they've regained control of the House of Representatives for the first time in eight years. However, with the GOP still retaining a tight hold on the Senate, according to The Washington Post, any Democrat-backed policy changes to education will still certainly be challenged.
But since they'll get to take control of the formerly Republican-held House education committee, Democrats will now be given the chance to push back more effectively against some of DeVos' policy decisions going forward.
Unlike the current committee chair, North Carolina Rep. Virginia Foxx, who has only called DeVos to Capitol Hill once since she was confirmed, according to Education Week, it's likely a Democrat-led committee will take a more in-depth look at issues like DeVos' rollback of Obama-era guidance regarding rights of transgender students, students' federal-loan debt, and regulations about sexual misconduct allegation on college campuses.
But the switch in committee control isn't the only impact the election result will have. Voters in 12 states had the chance to vote on additional ballot initiatives related to education funding Tuesday, and in Arizona, for example, voters defeated proposed legislation that would have expanded private school vouchers, according to The Intercept.
That's particularly notable given that DeVos herself has long been a vocal advocate for strengthening school voucher programs, but not everyone's on board with more public spending: over in Colorado, midterm voters rejected a $1.6 billion tax measure that would have increased funding for education throughout the state, according to The Denver Post.
In other areas though, the outcome of the midterm will influence education in another way: according to NPR, a number of states were electing governors who would be responsible for appointing the state school chiefs who oversee elementary and secondary education. And in New Mexico and Maryland specifically? The new governors (Democrat Michelle Luján Grisham and Republican Larry Hogan) will soon also be required to reassess the school funding formula in their states, according to NPR, which will affect education on a more direct, local level.
For the most part, the Democrat wins will likely translate into a greater push for public education funding — and that's pretty welcome news, particularly for the teachers across the country who staged walkouts to protest funding cuts, according to CNN. But the changing demographics of the people running for office during this election has also meant that many teachers and educators have chosen to get directly involved in pushing for change.
An estimated 1,800 educators across the country ran for office in the midterms, according to Market Watch, and they've had some success. In Kentucky, for example, elementary school teacher Tina Bojanowski defeated the Republican incumbent in Louisville's 32nd district, according to The Courier Journal, while Jefferson County Board of Education's Lisa Willner and former middle school teacher Josie Raymond won in their respective districts as well.
Although talk about education funding may not lead people to the polls in droves the way heated rhetoric about the migrant caravan or health care reform do, to both parents and educators, it's obviously a very important topic. And though it's still to be seen just how the election results will affect the current situation, it definitely seems fair to think that change will be coming.