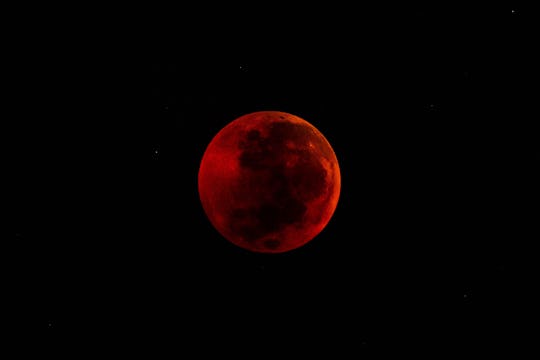 Ulet Ifansasti/Getty Images News/Getty Images
Here's How The Super Blood Wolf Moon Will Affect Each Zodiac Sign
The Super Blood Wolf Moon is only a short time away, and even non-astronomer types are pretty psyched about it. It's not often you get to witness a huge red moon overhead, for one thing, and astrologically speaking, it's reportedly pretty spectacular, too, according to the popular sister-astrologers the AstroTwins. So what does the Super Blood Wolf Moon mean for your zodiac sign? It could be mighty sweet.
In the world of astrology, lunar and solar eclipses always have a significant effect on your signs, but exactly what that effect is depends on the position of the sun and moon at the time. In this case, the Jan. 20 total lunar eclipse (called a "blood moon" for its temporarily red-tinged appearance) falls under the sign of Leo, "the galactic guardian of creativity, glamour, romance, and fertility," as the Twins explained.
With this powerful influence in our midst, the AstroTwins' website noted, it's a great time to take a stand for a cause you believe in, toot your own horn a bit, buy a piece of statement clothing or jewelry, or birth something new and soul-fulfilling (whether it's a literal baby, a poetry journal, or a crafting blog). Leo's passionate side may spur you to plan something special for Valentine's Day if you're coupled, or take a chance on someone new and unexpected if you're single.
As with any shift in the celestial bodies, the Super Blood Wolf Moon (couldn't you just say that forever?) will also affect each of the 12 Western zodiac sun signs in an individual way. The good news: Everyone from Aries to Pisces can expect refreshing changes, recognition for good efforts, and a renewed commitment to self-care or self-esteem. Here's a look at what's in store.