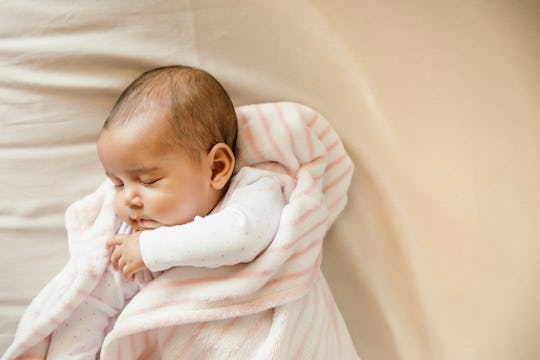 Santiago Iñiguez / EyeEm/EyeEm/Getty Images
How To Adjust Your Baby's Sleep Schedule For When Daylight Saving Time Ends
There are few phrases that strike fear into the heart of a parent like daylight saving time. In the spring, everyone panics because they're losing an hour of sleep, so fall should be a breeze right? You're "falling back" with time and gaining an extra hour of sleep. Everything should be roses. . . until you realize this means your child will be falling asleep earlier than their usual bed time and waking up an hour earlier. (My kid wakes up at 5:30 a.m., so you can imagine what this does to me.) Knowing how to adjust your baby's sleep schedule for when daylight saving time ends, however, can make the entire household breathe a little easier. You'll still need coffee though.
I know — this sleep thing doesn't seem to get any easier, does it? Your baby is sleeping through the night and then they aren't. A cough one night throws off their whole sleep schedule for the week and a milestone like crawling or walking can turn your sweet little cherub into an energetic monster at 3 a.m. But daylight saving time can affect your baby's whole circadian rhythm, according to Today's Parent. It may only be an hour, but think of it like jet lag. An hour can throw even an adult's schedule off; a little baby doesn't stand a chance. They will be cranky, overtired, and so will you.
To help ward off those issues, here are a few things you can try to adjust your baby's sleep schedule depending on their current sleep patterns and behavior. I make no guarantees, but I can promise you this — it won't last forever.