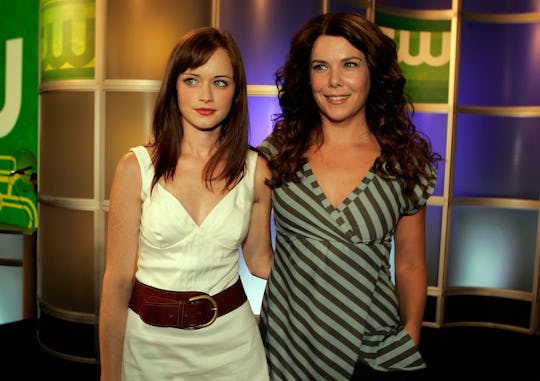 Kevin Winter/Getty Images Entertainment/Getty Images
How To Attend The Gilmore Girls Convention, Because You Know You Want To Go
You may need coffee, lots of coffee. That's because Gilmore Girls: A Year In the Life premiers just after midnight November 25, and diehard fans of Lorelai, Rory, and talking fast are going to want to stay up all night watching. But before the revival transports our hearts back to Stars Hollow with a heavy hit of nostalgia for that hardware store coffee, enthusiasts have the opportunity to actually go there. Or at least to the real-life town that inspired it, which will host the first ever Gilmore Girls Fan Fest in October. That's right, the magic really didn't actually end with the show's finale in 2007, so here's how to attend that Gilmore Girls convention.
We now know the four 90-minute "mini movies" that compose this much-anticipated Netflix reboot of the intergenerational classic aren't the only major Gilmore development of the year. And the convention could rival the revival for those lucky superfans who get to attend the event in Washington Depot, Connecticut, during the weekend of October 21-23. Gilmore Girls showrunner Amy Sherman-Palladino has said she modeled the original show's setting of this New England locale, so it's sure to deliver: Guests can partake in some very Gilmore-esque activities, like a knit-a-thon, book readings at the Hickory Stick Bookstore, and a dance recital at the pavilion.
Everyone who's already clambering for tickets can thank their lucky stars (Hollow) for husband-wife duo Jennie and Marcus Whitaker who turned this glorious three-day celebration of the the wittiest characters on TV into a reality. They're not affiliated with the original show or the reboot, but they've convinced some integral cast members to further enliven the weekend, including Kelly Bishop (Emily Gilmore), Jackson Douglas (Jackson Belleville), Yanic Truesdale (Michel Gerard), Vanessa Marano (April Nardini), Rini Bell (Lulu), Aris Alvarado (Caesar), Biff Yeager (Tom), and Ted Rooney (Morey).
To get in on that, you'll definitely have to pay. Both general admission and VIP tickets are available through the event's website, and they're not cheap. For $175, Gilmore groupies can buy access to pretty much the whole experience, but for $250, there's a little extra: guaranteed indoor seating for all Town Hall events. That's where the event's organizers will screen both the pilot at the finale, as well as the audience's two favorite episodes of seasons two through six.
Now every type of Gilmore Girls fan (hey, #TeamJess) has a reason get even more psyched about the show, come revival time. All you have to go is get your ticket, get a place to stay, and get your butt to Connecticut.