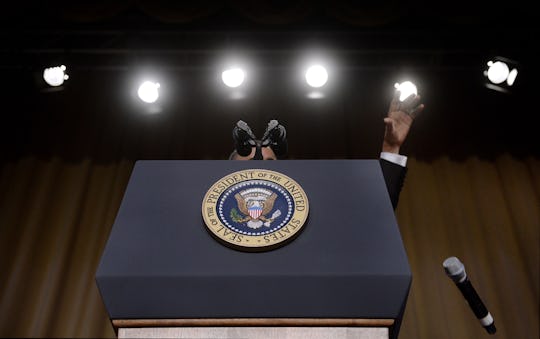 Pool/Getty Images News/Getty Images
How To "Attend" The White House Correspondents' Dinner
Quite a few A-list celebrities and the president himself are sitting out one of Washington's most social events of the year — but it's still a historic event and you might still be wondering how to attend the White House Correspondents' Dinner this Saturday, April 29. Well, unless you're a White House correspondent, a media personality, a political figure, or a celebrity, you won't be seeing your name on the guest list. And even if you do fall into one of the categories, scoring one of the 2,600 tickets distributed to the event is a still a rather complicated process that can come with a lot of in-house politics, schmoozing, and drama.
In short, if you're like the majority of the American public, you may be SOL on this one. But there are fortunately a few ways to "attend" the annual celebration of the First Amendment, even if you're not physically there.
First option: Buy a few bottles of wine, an ample supply of snacks, and invite your friends over to watch the annual dinner live as it happens. Starting at 9:30 p.m. Eastern Time, C-SPAN will broadcast the WHCD on live television and on the channel's website. If you opt for the latter viewing option, you're in luck because you won't need a cable account login to tune in online. And if things get a little snoozy or a little too weird over at the official festivities, you can also switch over to TBS for the Full Frontal with Samantha Bee special, titled "Not the White House Correspondents' Dinner," which will stream on Twitter following the one-hour segment's premiere on TV.
The best part? Hosting your own soiree — or going to one at a friend's house — with these viewing options means you don't have to put on a glittery gown or even do your makeup. Throw your hair up in a messy bun, make sure your internet connection (or your TV) is working properly, and you're good to go.
But, if you do feel like hitting the town and celebrating with a larger crowd of virtual attendees, head to a nearby bar that will be showing the event. As The Washington Post detailed, spots in the capital on H Street or places such as Morton's, Ruth's Chris, and the bar at the Ritz Carlton in Georgetown have tuned their TVs to the WHCD in previous years if patrons requested it. And if you're not in Washington D.C., call over to your favorite spot and ask them if they have any plans for Saturday evening. Chances are you're not the only one interested in watching with a cocktail and bar snacks.
Although this the 2017 WHCD is expected be a much tamer affair than previous years, it's still worth watching. Even if it means seeking out a spot that will broadcast C-SPAN on a Saturday night.