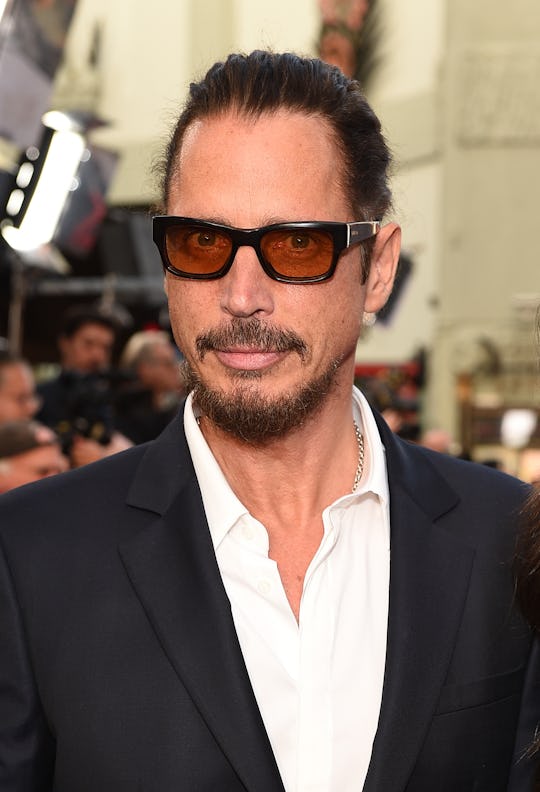 Kevork Djansezian/Getty Images Entertainment/Getty Images
How To Buy Chris Cornell's Previously Unreleased Songs
Chris Cornell, considered one of the founders of the grunge movement in Seattle, didn't sound like anyone but him. When he sang, you knew it was him from wherever you were. You could feel it in your bones. Soundgarden member Cornell died on Wednesday night, and one of the first things grunge fans did was take to the internet to listen to him sing, once again. Songs they knew by heart. Because there would be no more new songs from Cornell. Save a few, that is. Cornell had precious, previously unreleased songs, and they will be offered up just days after his death. One final gift from a music genius gone too soon.
And in such a tragic way at that; Cornell was found dead in a hotel room at the MGM Grand in Detroit late on Wednesday. A friend of Cornell's found him, according to a police report shared by The Guardian, "laying in his bathroom, unresponsive and he had passed away." The Wayne County coroner's office reportedly announced the singer's cause of death was suicide. While a full autopsy has not yet been carried out, representatives for the office said the singer had hung himself. Cornell was 52 years old.
In a grim twist of fate, on Friday, Warner Bros. is expected to release music by Cornell that has never been heard before. To celebrate the 25th anniversary of the Cameron Crow flick Singles, which featured Cornell heavily on the soundtrack, Warner Bros. is reissuing music from the movie — except this time around, according to Spin, the two-disc soundtrack includes a bonus feature that feels suddenly like a gift from the gods: two previously unreleased songs by the late artist.
The previously unreleased songs included on the soundtrack are called, "Ferry Boat #3," and "Score Piece #4." There's also a song from Soundgarden on the bonus track, "Birth Ritual (Live)." Director Cameron Crowe released a statement about the iconic grunge soundtrack in January, according to Rolling Stone:
Included are unreleased and raw elements that helped shape the experience of making the movie back in 1991. Hope you enjoy the trip back as much as I did – viva Seattle!
Little did he know at the time just how important that trip back would become in the wake of Cornell's death.
The Singles soundtrack will be available as either a two-cd set or on deluxe vinyl in stores and online on May 19. The updated version will include the original 15 songs as well as 18 new ones by grunge legends like Pearl Jam, Alice in Chains, and of course, Cornell himself.
It seems impossible to think this is the last we will hear from Cornell. But there it is, I suppose.