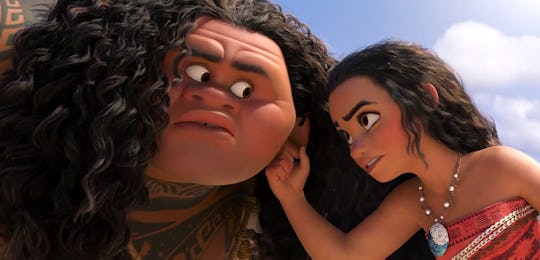 How To Buy The 'Moana' Soundtrack, Because The Songs Are Just That Good
Moana is Disney's newest film for the family this holiday season. Whether you are a parent who wants to take your kids to the film, or just a diehard Disney fan — no judgement — there is no doubt that after going on the journey of a lifetime with Moana, you'll have a tough time getting the catchy tunes from the film out of your head. The film's "How Far I'll Go" is the "Let It Go" of 2016. Considering how much I hit the replay button, the soundtrack is definitely something I would want to see in my stocking this year. If you too are a lover of Disney, or Lin-Manuel Miranda's work, then you're probably wondering how to buy the Moana soundtrack. Well, good news, there are a couple different ways to keep the spirit of Moana alive after leaving the theater.
The songs from Moana take you on an emotional journey. For the most part, the tunes are mainly fun and fast-paced, but they can also get deep and inspirational, as well. For example, Dwayne "The Rock" Johnson's "You're Welcome" will have you tapping your toes, and swaying your head from side-to-side in the theater chair. Then, suddenly you are whisked away like a voyager out at sea, excited to explore new territories, when Lin-Manuel Miranda's "We Know The Way " comes on. On a darker musical note, you become a hostage when Jemaine Clement's "Shiny" plays. His voice is associated with a whimsical evil, and the song delivers a creepy, yet playful, air as you are brought into the crab villain's lair. Finally, songs like "I Am Moana" send chills down your spine, and inspiration coursing through your blood.
Now that you've gotten a little preview of what the songs can do. Let's get straight down to it and explore all the ways you can get your hands on the Moana soundtrack.
Spotify
You can stream a full playlist of the songs on this site while you're at work, or relaxing at home here.
iTunes Music
iTunes also has you covered for your musical Moana fix. You can purchase the complete soundtrack, or individual songs for $1.29 a pop.
Amazon
Amazon allows you to stream the soundtrack, or purchase it as a CD or MP3 here.
So, what are you waiting for? Go take a listen! The ocean is calling, and so are your family's Christmas lists.