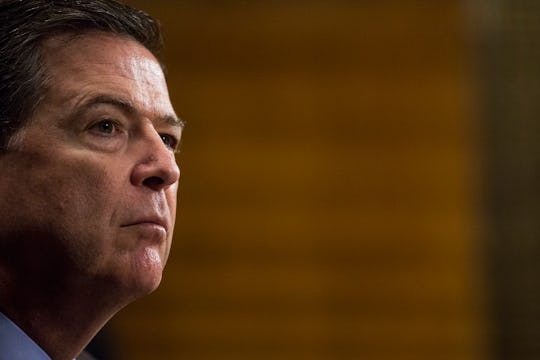 Zach Gibson/Getty Images News/Getty Images
How To Call Your Representative About James Comey's Firing
On Wednesday, Washington was still reeling from the news that FBI Director James Comey was fired by President Donald Trump early Tuesday evening. The move came as a complete surprise to Congress — and to Comey himself, who found out about his firing via a breaking news alert. Members of Congress have publicly voiced their disapproval of the sudden move by the Trump administration, especially given the FBI's ongoing investigation into alleged collusion between the Trump campaign and Russian officials. As outraged and concerned as some lawmakers are, it's important that they here from their constituents — so here's how to call your representative about James Comey's firing.
Getting in touch with your representatives is as simple as calling the Congressional switchboard at 202-224-3121. Just tell the operator you'd like to speak to your representative and your address, and he or she will connect you with your appropriate member of Congress. If you're worried about what you should say to your representative in regards to Comey's termination, there's plenty of material to work with when you call. Both the Indivisible Guide and the website 5Calls.org have Trump Russia talking points, and here are three things you'll want to focus on when you call.
Demand An Independent Investigation Of Trump's Ties To Russia
One of the most alarming aspects of Comey's firing is that it came on the recommendation of U.S. Attorney General Jeff Sessions, who was forced to recuse himself from the Trump-Russia investigation over possible conflicts of interest in the investigation. After House Intelligence Committee Chair Rep. Devin Nunes allegedly informed Trump about surveillance information before sharing it with his committee — and since refusing to recuse himself — the need for an independent, bipartisan investigation is critical now more than ever after Comey's firing.
Vice News currently has a running list of every member of Congress calling for an independent investigation, and the list just keeps growing. Before you call, check to see if your representative is on that list. If so, there's no need to preach to the choir when you call — instead, thank them for their support and ask them specifically how they will commit to ensuring an independent investigation will occur. Because of the GOP majority in both the House and Senate, it will likely take legislative action to trigger an independent investigation into Trump's Russia ties.
If They Won't Support An Independent Investigation, Demand To Know Why
It really can't be stressed enough just how distressing Comey's firing is. Never mind Trump's ridiculous termination letter to Comey — what's distressing is that Trump's decision to fire Comey happened on the same day the Senate Intelligence Committee requested financial information from the Treasury Department for every member of Trump's team. Even more distressing? Trump met with Russian Foreign Minister Sergey Lavrov at the White House on Wednesday, not even 24 hours after firing the man at the head of one of six different agencies investigating Trump's Russian ties.
If, when calling your representative about Comey's firing, you find out that they don't support an independent investigation, find out why and remind them Trump's many connections to Russia deserve a thorough, comprehensive investigation free of political partisanship. And if your representative's office still can't give you a good reason, just remind them you'll be remembering this when you head to your polling station in 2018.